UNB alum helps Canadians track vaccination records on their smartphones
Author: Communications
Posted on Jul 11, 2014
Category: UNB Fredericton , UNB Saint John
Why do we have vaccination cards that are easily misplaced when almost every other piece of information can be accessed easily from our smartphones?  UNB alumnus, Dr. Kumanan Wilson, who is a medical doctor and a public health policy researcher, knew there must be an easier way for families to keep track of their immunization records. Inspired by a conversation with a fellow parent who is also a UNB alum, ImmunizeCA was brought to life. It's a free app that helps people track their vaccinations, and those of their families, on their phones.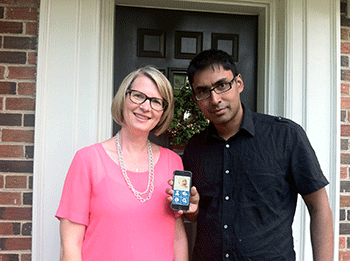 Launched across the country this past March, ImmunizeCA is one of the first national government-endorsed vaccine phone apps and it is improving Canadian's vaccine record-keeping and access to accurate immunization information. Made possible through a collaboration between the Canadian Public Health Association, Immunize Canada and The Ottawa Hospital Research Institute, the app not only lets people know when and if they are due for immunization, it can provide alerts about vaccine-preventable outbreaks in their areas as well as access to reliable information about vaccines. (Watch video)
Dr. Wilson, a scientist at The Ottawa Hospital Research Institute and a Research Chair in Public Health Policy, says the app is something that can be used by all Canadians.  "It's great for parents who have to keep track of a number of vaccination schedules and appointments for their children," said Dr. Wilson. "Parents can have all this information right at their fingertips on their phones. The app also provides useful information about travel vaccines and reminders of tetanus shots."
When asked where the idea for ImmunizeCA came from, Dr. Wilson was quick to say the idea wasn't his.  "I was in a park in my neighbourhood in Ottawa, chatting with Lesley Keenan, while our kids played.  It was Lesley who asked the question of why we can't have an app that records our vaccinations."  
Keenan works for San Francisco-based, employee recognition and reward software company Achievers, and says she spends every day trying to move clients away from traditional hand-written hard copies toward online cloud-based solutions, so this is a natural progression for vaccination records.
"Getting my children to the doctor's office for an appointment was often difficult enough without having to worry about bringing a small yellow card," said Keenan.  "Of course, I would still get my children vaccinated, but having only one copy of their record that would invariably be forgotten at home meant that these records were incomplete and inaccurate.  Having all of this important information in only one place also increased the likelihood that the records could be lost or damaged."
Dr. Wilson has close ties to the University of New Brunswick and built a foundation during his time on the Fredericton campus that he says he still draws from often in the work he does today.
"I grew up in Fredericton," said Dr. Wilson. "My father was a political science professor at UNB and my mother was a librarian there. UNB was the only school I applied to after graduating from high school, and it gave me an excellent foundation in science."
Dr. Wilson remembers one course in particular in biochemistry that left a lasting impression.
"It was taught by Professors Cashion and Krause and I still remember what I learned in that course and those lessons still play a role in what I do today."
Besides specializing in immunizations, Dr. Wilson also does a lot of work in blood safety and newborn screening. He lives in Ottawa with his wife Kim Barnhardt and their son Matthew.
The app can be downloaded from iTunes, Google Play, or Blackberry World for Q10s.  Dr. Wilson is hoping that more Canadians take advantage of this free app, particularly New Brunswickers who currently have a low rate of usage.
"ImmunizeCA is extremely valuable in helping people take control of their own health information and I really hope Canadians will take advantage of it and download the app."