Post-Doctoral Fellow wins two prestigious fellowships
Author: Communications
Posted on Jul 31, 2014
Category: UNB Fredericton
Dr. Alli Murugesan, a postdoctoral fellow (PDF) with University of New Brunswick (UNB) Saint John's department of biology, was recently awarded both the prestigious Terry Fox Postdoctoral Fellowship from the New Brunswick Health Research Foundation and an Elevate Postdoctoral Fellowship from Mitacs.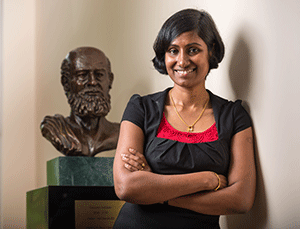 As a PDF under Dr. Anthony Reiman, a renowned medical oncologist and the Canadian Cancer Society research chair at UNB Saint John, Dr. Murugesan is currently partnering with Soricimed Biopharma Inc. to test their peptide antagonists for her Mitacs research. Her current work focuses on deciphering novel therapeutics for multiple myeloma, an incurable bone marrow cancer. She is scheduled to begin her Terry Fox Fellowship this August.
Dr. Murugesan is a passionate protein chemist from Saint John. She obtained her bachelors in chemistry (1996) and her masters in biochemistry (1998) from India. She ranked first in the entrance exams to join the premier institution, Jawaharlal Nehru University in New Delhi for her PhD in biotechnology.
During her doctoral training in the lab of professor Aparna Dixit, a well-established molecular biologist, she isolated, purified and characterized two proteins from the medicinal plant, Momordica charantia (bitter melon). Her outstanding research work led to her being one of the inventors of the anti-diabetic protein that has been granted American and European patents.
In 2006, Dr. Murugesan completed her PhD and came to Canada to pursue her first postdoctoral training in neuroscience (2006-2009) at Dalhousie University under the supervision of Professor Victor Rafuse.  Her research work focused on the role and detection of the protein sonic hedgehog in neuronal precursor cell proliferation and migration.
In 2010 Dr. Murugesan obtained her clinical research experience as a research associate under Dr. Timothy Christie, regional director of ethics at the Saint John Regional Hospital.
Dr. Murugesan brings with her a strong background in biomedical research including medicinal chemistry, biotechnology, and stem cell biology along with her current training in oncology. Her long-term goal is to establish herself as an independent researcher, and be the nexus between academia and the industry by creating, protecting, and efficiently transferring intellectual property to industrial and pharmaceutical companies.