Dr Shelley Doucet named Jarislowsky Chair in Interprofessional Patient-Centred Care
Author: Communications
Posted on Jul 29, 2014
Category: UNB Fredericton , UNB Saint John , myUNB
The University of New Brunswick is changing the way people look at health-care through the new Jarislowsky Chair in Interprofessional Patient-Centred Care. The chair, located at UNB Saint John, will be held by assistant professor Dr. Shelley Doucet (BN'05, PhD'10) of the faculty of science, applied science and engineering.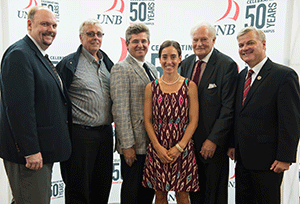 Dr. Doucet will lead an ongoing research initiative aimed at developing and evaluating new interprofessional community-based primary health-care models that are patient-centred. This growing field of study encourages collaboration among health and social care providers across multiple settings to improve patient care and better manage public health resources to sustain the delivery of health-care in the future.
The announcement of the chair was made today at UNB Saint John to recognize the support from the Jarislowsky Foundation, the New Brunswick Health Research Foundation (NBHRF) and the Sir James Dunn Foundation.
The chair was made possible through a $1 million endowment from The Jarislowsky Foundation. A renowned supporter of education and fundamental research projects, Dr. Jarislowsky's philanthropy has helped establish twenty-six endowed chairs in a variety of disciplines across the country including medicine, public sector management and business. Dr. Jarislowsky is chairman of the Board of the Montreal-based investment firm Jarislowsky, Fraser Limited.
"This is not only a unique opportunity to engage in groundbreaking research in the health sciences, but also an opportunity to directly impact the lives of Canadians through better health-care delivery and patient care," said Dr. Jarislowsky.
Two New Brunswick-based organizations also came forward to help establish the chair by matching Dr. Jarislowsky's contribution. The New Brunswick Health Research Foundation (NBHRF) and the Sir James Dunn Foundation both pledged contributions of $500,000.
"As our government is working towards rebuilding our health-care system to be more responsive to patient needs by improving access to care and coordination of care, I am pleased a new Chair in primary health-care has been created in New Brunswick," said Health minister Hugh Flemming.
"Research and teaching in interprofessional patient-centered care will improve the knowledge in that field resulting in improved primary health-care services for New Brunswickers and better health outcomes."
The Tucker Park Collaborative at UNB Saint John is a working model of Dr. Doucet's research possibilities. Health-care professionals, faculty and students from UNB Saint John, Dalhousie Medicine New Brunswick, the New Brunswick Community College's Allied Health Education Centre and the Horizon Health Network are collaborating to share resources and exchange knowledge while working directly with students, health professionals and patients to improve the delivery of health-care services.
Dr. Doucet is a two-time UNB alumna, completing her Bachelor of Nursing in 2005 and her Ph.D. (Interdisciplinary Studies) in 2010. She completed a Master of Science in Nursing at the University of Western Ontario in 2007. She joined UNB as faculty in 2010, and also maintains academic positions at Dalhousie Medicine New Brunswick and the University of British Columbia.
Dr. Doucet has attracted national recognition for her award-winning work, receiving research grants and fellowships from the Canadian Institutes of Health Research and the Social Sciences and Humanities Research Council. She is also the founder and chair of both the Atlantic and New Brunswick Communities of Practice in Interprofessional Education and Practice, and is the Canadian lead on a graduate student and faculty exchange in interprofessional education between Norway, Canada and the United States.
"Our goal is to initiate broad changes in the way that health care is delivered to patients – to develop new interprofessional practice models that shift the focus away from practitioners and back to patients and their families," says Dr. Doucet.
Media inquiries
Heather Campbell, UNB
hcampbel@unb.ca
(506) 648-5697