Cyber Girlz aims to bring more women into tech and computing fields
Author: Communications
Posted on Jul 9, 2014
Category: UNB Fredericton , UNB Saint John
In light of the success of last year's experience, UNB's faculty of computer science will be offering a girls-only summer day camp: Cyber Girlz Summer Camp 2014. The camp, which aims to spark middle school girls' curiosity in computing and introduce them to basic Internet security concepts, will be held from August 18 to 22 from 9 a.m. to 4 p.m. each day.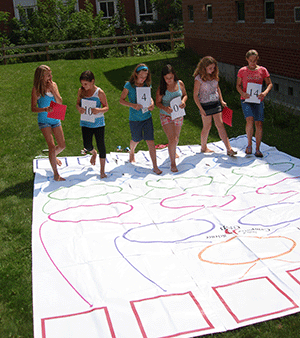 Ignite girls' interest for what makes technology work
The underrepresentation of women in the information and communications technology (ICT) sector has been identified as problematic for at least a decade now. Google recently released statistics on the makeup of its work force, revealing only 17 percent of its technical employees worldwide are women. According to an April 2012 report from the Information and Communications Technology Council (ICTC) on gender representation in the Canadian ICT labour force, the percentage of women in ICT is 24%.
"Girls are rarely encouraged to pursue math and science in schools since these are commonly viewed as boys' disciplines," explained Dr. Natalia Stakhanova, New Brunswick Innovation Research Chair in Cyber Security at UNB's faculty of computer science and organizer of the Cyber Girlz camp.
"Add to this the lack of readily available female role models and you have a perfect explanation as to why the number of female students in the STEM disciplines (science, technology, engineering, and mathematics) has been steadily declining. UNB is working to address both limitations with programs like Cyber Girlz and the women in IT workshops. Through building computer skills and providing role models, we are boosting girls' confidence and nurturing their interest in the field of computer science."
Participants will be introduced to basic every-girl-needs-to-know cyber safety strategies through a series of hands-on training exercises and games. The specific topics covered by the camp training program will include basic understanding of what makes computers work, recognizing spamming, phishing, malware and other Internet attacks, basic cryptography and passwords, security in social network sites, and ethics in computing with the focus on cyberbullying. By the end of the camp girls will have learned how to secure their Facebook and Twitter accounts, create a secure password, and behave responsibly and safely online.
In addition to the camp's training program camp, organizers will arrange a series of meetings with female graduates of UNB Computer Science who are currently employed in local industries.
"Our Faculty recognizes the importance of making computer science more appealing to girls", said Dr. Andrew McAllister, acting Dean of Computer Science." Females all over the world are significant contributors to the field of Information Technology. We want young women to become excited about the many opportunities to contribute to designing tomorrow's innovations. The UNB Fredericton Faculty of Computer Science even offers special scholarships to incoming female students, like our Dr. Jane Fritz Scholarship."
Cyber Girlz 2013
Last year's first edition of the Cyber Girlz camp was praised as a great success. Girls from all over Fredericton attended, and even one enthusiast young girl from the Moncton area. "This was the best camp ever!" said one of the campers. "I loved the cyber detective game. I will be definitely coming back next year!" The mother of a 12-year-old also shared how her daughter enjoyed herself and "was so excited talking about computers."
Cyber Girlz 2014 info
Dates: August 18 to 22, 2014
Time: 9 a.m. to 4 p.m. each day
Drop off location: UNB Computer Science, 550 Windsor St., Fredericton
To register: iscx.ca/summercamp
For more information or to arrange an interview contact Natalia Stakhanova, NB Innovation Research Chair in Cyber Security or Genevieve Audet-Perron, public relations/outreach coordinator, faculty of computer science.