Hans W Klohn Commons receives LEED gold certification
Author: Communications
Posted on Feb 25, 2014
Category: UNB Saint John
The Hans W. Klohn Commons building on the University of New Brunswick Saint John campus has achieved LEED gold certification.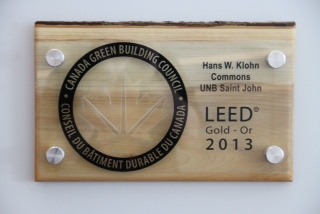 LEED (Leadership in Energy and Environmental Design) is an industry building rating system that is recognized as the international mark of excellence for green buildings in over 132 countries. 
"We are striving to design and operate our buildings in an efficient way," said UNB President Eddy Campbell. "This project was an opportunity to demonstrate in a very public way, our commitment to sustainability.  As a major building owner in the province it is important UNB lead by example."
Studies by the Green Building Council show that 35 percent of all greenhouse gases are generated from buildings, 35 per cent of landfill waste comes from construction and demolition activities, and 70 per cent of all municipal water is consumed in and around buildings. 
"The Hans W. Klohn Commons is one of the most advanced and environmentally friendly buildings in Atlantic Canada and offers everyone a truly innovative learning experience," said Dr. Robert MacKinnon, Vice-President, UNB Saint John.
The LEED rating system evaluates six aspects of building design and construction: site development, water efficiency, energy efficiency, materials used, indoor environmental quality, and innovation.  There are four possible levels of certification through LEED: certified, silver, gold and platinum. 
The design and construction of the Commons has resulted in a number of environmental efficiencies and cost savings to the university, which ultimately led to the gold certification. These include:
140 tonnes of CO2 per year of GHG emissions saved, the equivalent to taking 30 SUVs off the road;
58 per cent reduction in potable water use, equivalent to 1,800,000L per year equivalent or almost 6,500 bathtubs of water each year. LEED requires a minimum 20 per cent reduction in water use;
47 per cent reduction in energy costs, 380,000 kWh per year of energy savings equivalent to the energy used by 13 single-family dwellings. LEED requires at least a 25 per cent consumption reduction over the Model National Energy Code for Buildings referenced to building;
150 tonnes of construction waste diverted from the landfill or 93.7 per cent of waste diversion from landfills. LEED requires a 50 per cent diversion; and
90 per cent of indoor areas have direct sightlines to daylight and views.
The design of the Commons also took into consideration open green space around the building and restored any disturbed areas with native vegetation.
The Hans W. Klohn Commons is one of only five LEED NC GOLD certified projects in New Brunswick and the only university building in New Brunswick with any level of LEED certification. 
The Commons opened in September 2011 and is the essential gathering place for students on the UNB Saint John campus. It offers the latest in technology, writing and library services, as well as high-quality learning and research facilities.