UNB joins forces with Higher Ed Points allowing students to pay tuition with Aeroplan Miles
Author: Communications
Posted on Nov 7, 2013
Category: UNB Fredericton , myUNB , UNB Saint John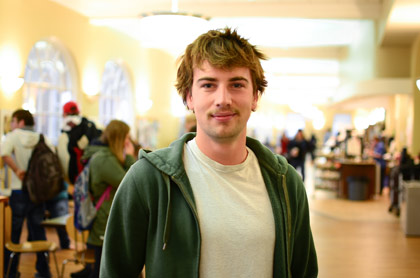 The University of New Brunswick (UNB) is only one of three post-secondary institutions in the country to immediately jump to join forces with Higher Ed Points Inc., a partnership that will allow students, friends and family members to direct their Aeroplan Miles towards education.  
Higher Ed Points Inc. has launched a revolutionary new program through its website which allows Canadians to convert Aeroplan Miles into payments for higher education. Students, their parents, friends and family members can all use miles to help offset the costs of college or university in Canada.
As of November 7, 2013, Aeroplan members can redeem their miles in $250 denominations and transfer the funds through Higher Ed Points Inc. to participating institutions in order to offset costs such as tuition, residence and meal plans fees.
"UNB is passionate about supporting its students," said Eddy Campbell, president of UNB. "This is a very innovative and unique way to do that. We are delighted to participate in this initiative."
"Everyone feels the pinch of trying to pay for higher education. The great thing about tapping into loyalty currencies is that everyone can participate," says Suzanne Tyson, founder of Higher Ed Points Inc. "We're a nation of dedicated loyalty program participants, so even if students themselves haven't collected a lot of loyalty points, they still have a very good chance of knowing someone who would be only too happy to make a 'donation' toward their higher education. The bonus is they won't have to write an essay or fill out an application!"
To kick-off the program, Tyson has transferred a portion of her own Aeroplan points to a student at each participating institution. Stewart Hillhouse will use Tyson's donation towards his bachelor of science in forestry at UNB.  
"Aeroplan is always looking for new and innovative rewards for our members to use their miles on," says Francine Sternthal, director, product management, Aeroplan. "We're excited to work with Higher Ed Points to help make Canadian higher education more accessible."
Higher Ed Points Inc. has partnered with D+H, the leading provider of technology and servicing solutions for Canadian student loan programs, to ensure that the entire Higher Ed Points process, from the Aeroplan reward redemption through to the deposit of funds into a student's university or college account is 100 percent secure and reliable.
To arrange a media interview, please contact Kelsey Seymour.
Higher Ed Points in the news