Dixon family creates UNB engineering scholarship
Author: Communications
Posted on Nov 14, 2013
Category: UNB Fredericton , myUNB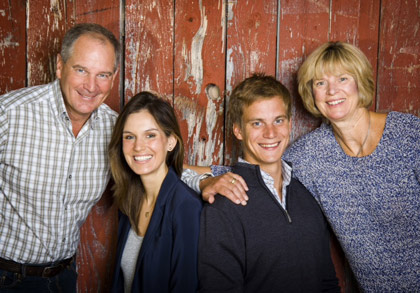 Greg Dixon, who graduated from the University of New Brunswick with a degree in civil engineering, has carved out success as a senior executive responsible for major engineering projects in Western Canada.
Throughout his highly rewarding career, he never forgot the University of New Brunswick. The university created a springboard for his impressive list of accomplishments. As a leader, he also found that when he needed to bolster his staff with the best and brightest minds, he'd turn to his alma mater and hire talent from the very program from which he graduated more than three decades ago.
Now, Greg and his wife Shelli are giving back to the UNB community by establishing the Dixon Family Foundation Scholarship for New Brunswick students enrolled in UNB's engineering program.
"I graduated with a degree in civil engineering from UNB in 1980. Throughout a successful 32-year career as a contractor, we hired several brilliant young UNB engineering graduates from this top-ranked university," says Dixon.
"I consider it a privilege to be able to help a deserving student pursue his or her career goal at UNB. My family and I look forward to a lasting relationship with the university in the administration of this scholarship."
UNB President and Vice-Chancellor Eddy Campbell says that increasing student financial support is a cornerstone of the university's strategic plan and salutes Greg and Shelli's commitment.
"This is a generous contribution from a leader in the engineering field and displays a strong commitment to UNB. The award will support students looking to make their mark as they build their own careers," Dr. Campbell said.
David Coleman, dean of the engineering at UNB in Fredericton, says the scholarship is a great development for the faculty.
"UNB produces the top engineering students in the country and this award will provide much appreciated support to talented and deserving students who work so hard to achieve their degrees," Dr. Coleman said. "It is a great gesture from one of our proud alumni."
The Dixon Family Foundation Scholarship, valued at $7,500, will be awarded annually to a full-time UNB student.  The recipient will be a graduate of a New Brunswick high school who has completed the requirements for the first year of the bachelor of science in engineering program. The New Brunswick University Opportunities Fund also provides support for this scholarship.
To arrange a media interview, please contact Kelsey Seymour.