Hughes Scholarships to support UNB Law students
Author: Communications
Posted on Sep 20, 2013
Category: myUNB , UNB Fredericton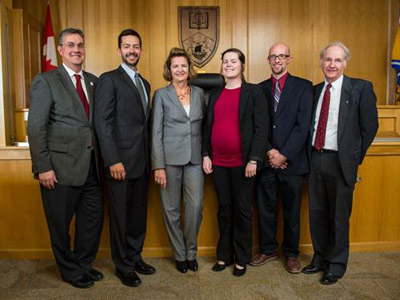 In recognition of his parents, the Honourable Charles and Edith Hughes, the late Richard Atwater Hughes has made a generous bequest of over $500,000 to support students entering the study of law at the University of New Brunswick.
A journalist, broadcaster, speechwriter and media relations specialist, Richard had a varied career both in New Brunswick and in the United Kingdom. His working years took him from the newsroom of The Daily Gleaner to editorial positions in radio, television and newspapers, including stints with the BBC and Lord Beaverbrook's Sunday Express in London.
His second career was with the provincial government during which he was a founding member of the New Brunswick Information Service and provided media advice and speechwriting services to Premiers Robichaud, Hatfield and McKenna.
Richard and his wife, Judy Gyuk Hughes, have always understood the value of higher education - and the hard work it takes to pursue it.  With strong connections to both of Fredericton's universities - many of Richard's family members are UNB alumni, and Judy studied social work at St. Thomas University - Richard designed the scholarship accordingly.
The awards are another tribute to the lives of the Honourable Charles and Edith Hughes who were strongly connected with the legal and Fredericton communities.  A former Chief Justice, Charles received his bachelor of arts from UNB in 1930 and was awarded an honorary doctor of laws degree in 1973.  Edith was an active volunteer within the Fredericton community and a strong supporter of the Beaverbrook Art Gallery.  
The Honourable Charles Joseph Arthur Hughes and Edith Barbara Atwater Hughes Scholarships will be awarded to one UNB graduate and one STU graduate entering UNB Law each year.  Valued at $9,000 each, these are among the largest scholarships awarded by UNB's faculty of law.
"We're grateful for such strong support from remarkable friends of our university.  This scholarship will help generations of law students achieve their goals, a fitting legacy for Richard to leave in honour of his parents," said UNB President and Vice-Chancellor Dr. Eddy Campbell as he announced the scholarship at an event at Ludlow Hall on Thursday.
Interim dean of UNB's faculty of law, Prof. John Williamson confirmed the importance of such scholarships, stating, "awards like the Hughes Scholarship are exactly what we need to help ensure a strong future for UNB Law and our students."
The first two recipients of the Hughes scholarships, James Kitchen and Roy Stewart, were present at the event.
"To receive a scholarship of this magnitude is to receive the gift of education itself. I cannot overstate how life-changing scholarships are in enabling underprivileged, but talented individuals in realizing their potential," said Kitchen.
Richard's niece, Rose Campbell, and other family members were present at the gift announcement.  Ms. Campbell spoke on behalf of the family.
"Dick's journalism career gave him a keen understanding of the needs of our society.  He knew the lasting value of investing in people.  We, his family, are proud of his generosity and excited about the possibilities these scholarships will create for future generations," Campbell said.