Community Celebrates UNB at Homecoming 2013
Author: Communications
Posted on Sep 26, 2013
Category: UNB Fredericton , myUNB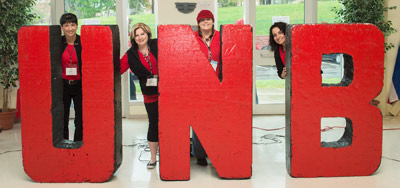 Alumni, friends and members of the community have joined University of New Brunswick faculty, staff and students on the Fredericton campus this week for UNB Homecoming 2013, September 26-29.
"Homecoming is a special time of year when alumni, students and the community celebrate UNB," says Margaret Grant-McGivney, executive director of UNB's Associated Alumni. "It is an opportunity to reconnect and reminisce, make new connections, share accomplishments and celebrate achievements."
This year, the university added more family events, like Family FunFest featuring Scotty and the Stars, and free recreation activities like hot yoga and family swim, plus Explore UNB.  "We've tried to dispel the notion that Homecoming is just for alumni," says Grant-McGivney.  "It's not. It's an opportunity for the community to celebrate its local campus."

There is good news for those who missed the Homecoming registration deadline. Several events are open on a drop-in or pay-as-you-go basis, including:
Doors Open UNB (tours of UNB's historic buildings)
Maritime Kitchen Party, with ECMA winners Bottoms Up
Football rally, parade, corn boil and UNBF vs. UNBSJ football game
Family FunFest
See the Homecoming schedule for event details, locations and times.
To arrange a media interview, please contact Kelsey Seymour.