Chris Turner Surviving and Thriving in a Sustainable Economy September 19
Author: Communications
Posted on Sep 12, 2013
Category: myUNB , UNB Fredericton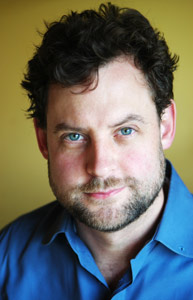 Chris Turner, one of Canada's leading writers and speakers on sustainability and the global cleantech industry, will shed light on the global sustainability movement as the Andrews Initiative Speakers Series on Energy and the Environment continues.
Boundlessly optimistic about the future and refreshingly pragmatic about the path that leads us there, Turner will present his talk, entitled Making the Leap, on Thursday, September 19, at 7 p.m., at the Wu Conference Centre Auditorium, UNB Fredericton.  Admission is free and the public is invited to attend.
The next industrial age, powered by renewable energy and characterized by radical energy efficiency, is already underway.  Chris Turner provides a guided tour of this world of renewed prosperity and reinvigorated community. Turner shows how a radical shift to clean systems of energy production and efficient use, next-generation architecture and urban design, reinvigorated political engagement and community development will enable individuals and businesses alike not only to survive but to thrive in the twenty-first century economy.  From Germany's renewable energy revolution to community-scale, street-level transformations here in Canada, he tracks the state-of-the-art in sustainability and traces the outlines of our brightest possible future.
A graduate of Queen's University and Ryerson University, Turner is the author of several bestselling books including The Geography of Hope and the international bestseller Planet Simpson.  His latest book is The War on Science: Muzzled Scientists and Willful Blindness in Stephen Harper's Canada.  His feature writing appears regularly in The Walrus, The Globe and Mail, Canadian Geographic and other major publications.  He has given keynote addresses or lectures at thirteen university campuses, four literary festivals and over thirty major professional and industrial conferences nationwide.
The Andrews Initiative, created by former UNB president John McLaughlin, is aimed at fostering study and dialogue on issues of substantive importance to the community.  
Andrews Initiative 2013: Year of Energy and the Environment features a special 4-week course offered through the College of Extended Learning. Participants will take a multidisciplinary look at the technologies, constraints, values and policies that influence energy generation.
To arrange a media interview, please contact Susan Montague.