Young eco heroes kick off UNB s summer camp season
Author: Communications
Posted on Jul 2, 2013
Category: UNB Fredericton , myUNB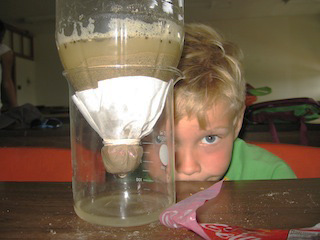 It may be summer session on university campuses, but students from grades 1 & 2 descended upon the UNB Fredericton campus today.  For the next 10 days, these eco heroes will learn about the atmosphere and pollution, and find ways to make the earth a cleaner place.
Eco Heroes, which runs from July 2-12, is the first in a series of thematic camps offered through the World's UNBound summer program. Hands-on bilingual camps, focusing on engineering, science and technology, run throughout the summer for students in grades 1-9.   
It's not too late! View the 2013 World's UNBound camp schedule to register your child, or check out the other UNB summer camps.
For more information, contact the World's UNBound team.