VP academic ready to tackle new term in Fredericton
Author: Communications
Posted on Jul 18, 2013
Category: UNB Fredericton , myUNB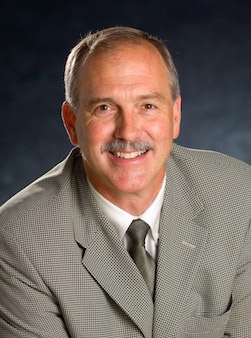 Just days into a new 6-year term as the vice-president (Fredericton) of the University of New Brunswick, Anthony (Tony) Secco is already acting on objectives and determining how his campus - the largest in New Brunswick - will meet them.
"The aim is to deliver the highest quality education possible at UNB," said Dr. Secco. "But of course, the challenge is always to define what is meant by that, and to find ways to measure it."
Originally appointed for a 5-year period as vice-president in the summer of 2008, Dr. Secco's first term at UNB was subjected to the impact of the global financial crisis and shifting demographics in Atlantic Canada. Despite these challenges, UNB has nonetheless made several strategic hires and has outperformed many of its competitors in areas such as research productivity and the incorporation of innovation and entrepreneurship into its learning mandate.
"These are definitely challenging times for most universities and colleges," admits Dr. Secco. "But UNB has been doing a very good job of managing its finances and operations for a number of years now, and since 2010, guided by a strategic plan. The challenge during times of transition is to have as many members of the UNB community as possible embrace change in achieving the highest quality education within the available resources - we're all in this together!"
Of the numerous priority items undertaken by his office during his first term, Dr. Secco is especially proud of his efforts to reach out to students, faculty and staff as well as his efforts to make UNB an institution that excels in teaching. There have been many benefits to making himself so readily available to students, most notably in terms of gaining a better understanding of the overall student experience.
"In establishing the position of an assistant to the VP dedicated to student experience during my first term, we ultimately wanted a clearer picture of the various factors that influence a student's academic and personal growth," says Secco. "This has allowed us to gain insight and develop initiatives to improve students' overall experience on our campus, which addresses issues like attrition and retention."
Looking ahead to his second term, Dr. Secco points to a number of initiatives and projects, several of which are already under way. "Ensuring the continued quality and long-term sustainability of our programs will, of course, be key," says Secco. "Upgrades are also needed for many of our learning spaces on campus.  I want us to continue to become a place where service is key, where we take pride in our accomplishments and our willingness to change and improve, and where our attitudes and approaches make for a working and learning environment second to none."      
"I am very optimistic about UNB's future," adds Secco. "The university is incredibly important to the economic and social development of our province and Atlantic Canada, and our faculty and staff produce research and learning environments that are recognized around the world. It is both a pleasure and a privilege to be re-appointed to this position with such great support both on campus and within the community as we continue to advance UNB's mission."
The recommendation for reappointment was made to the president by the review committee appointed last fall to review Dr. Secco's performance during his first term. The committee gathered feedback from the university community and other key constituencies on his performance and possible reappointment.
The members of the review committee were David Bedford, member of Fredericton Senate and faculty member in the department of political science on the Fredericton campus; Joanna Everitt, member of Saint John Senate and dean of arts on the Saint John campus; Kevin Ferguson, member of the Board of Governors; Usha Kuruganti, faculty member in the faculty of kinesiology on the Fredericton campus; Mostafa Shaker, undergraduate student on the Fredericton campus, and Kathryn Wilson, faculty member in the faculty of nursing on the Fredericton campus. The review committee was chaired by President H.E.A. (Eddy) Campbell.
Dr. Secco is originally from Antigonish, N.S., and graduated with a bachelor of science with honours from St. Francis Xavier in 1978.
In 1982, Dr. Secco graduated with a PhD in chemistry from the University of British Columbia. After completing a post-doctoral fellowship at the University of Pennsylvania, he joined the department of chemistry at the University of Manitoba where he rose to the rank of full professor. He subsequently served as associate dean and later dean of the faculty of graduate studies. In 2005, he accepted an appointment as vice-president (academic and research) and professor of chemistry at Cape Breton University.
As a researcher, Dr. Secco has received substantial funding from the Natural Sciences and Engineering Research Council of Canada over the course of his academic career. He has also guided the research of many undergraduate and graduate students and is well published in internationally renowned peer-reviewed journals. His research interests, initially focused on small molecule crystallography, later developed into structural studies of novel DNA fragments.
Dr. Secco has been twice recognized for his excellence in teaching with university awards in 1996 and 2004.