Prestigious Currie Scholarships awarded at the University of New Brunswick
Author: Communications
Posted on Jun 3, 2013
Category: UNB Saint John , UNB Fredericton , myUNB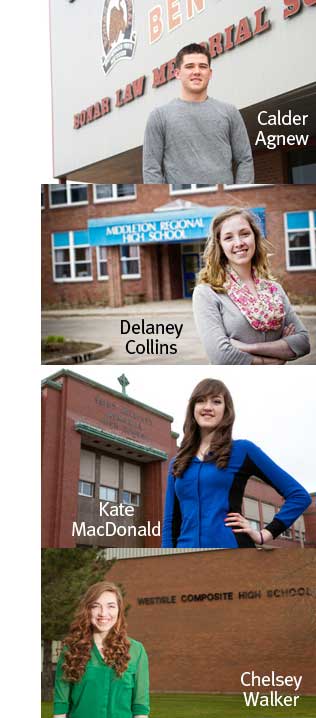 Four Maritime high school students who displayed outstanding leadership skills inside and outside the classroom are the 2013-14 recipients of the prestigious Currie Scholarships at the University of New Brunswick.
Calder Agnew of Child's Creek, New Brunswick; Delaney Collins of Middleton, Nova Scotia; Katherine MacDonald of Saint John, New Brunswick; and Chelsey Walker of Ellerslie, Prince Edward Island, will each receive a four-year scholarship, valued at $50,000.
The Currie Scholarships were established by Dr. Richard J. Currie - one of Canada's most accomplished businessmen and philanthropists.  Dr. Currie, who was named chancellor emeritus at UNB in May, is the University's most generous living benefactor.  He has been an inspirational leader for the university community, and his entrepreneurial spirit has set a standard few have surpassed.  
Calder Agnew has combined athletic skills honed in wrestling and hockey with leadership abilities and a strong academic performance to find his success. He will pursue a bachelor of science degree in mechanical engineering.
Delaney Collins maintained honours with distinction throughout her time at Middleton High School and developed her leadership skills with the Nova Scotia Secondary Students' Association. She will begin a bachelor of science degree in engineering this fall.
Katherine MacDonald is among the top of her graduating class at St. Malachy's Memorial High School and is active in orientation and open-house committees, the student newspaper, and the school's musical productions. She plans on taking a four-year bachelor of arts and science degree.
Chelsey Walker will enter the bachelor of science program with an aim to become a pediatrician. She is an outstanding volleyball player as well as a member of the Westisle Composite High School band and drama clubs.
In 2009, Dr. Currie played a fundamental role in the development, design and financing of the state-of-the-art Richard J. CURRIE CENTER on the Fredericton campus. He is an officer of the Order of Canada, and a laureate of the Canadian Business Hall of Fame. 
For media inquiries, please contact Kelsey Seymour.