Dr Cynthia Stacey appointed dean of Renaissance College
Author: Communications
Posted on Jun 24, 2013
Category: myUNB , UNB Fredericton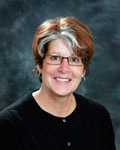 Dr. Cynthia Stacey has been appointed dean of the University of New Brunswick's Renaissance College for a five-year term commencing July 1, 2013. Dr. Stacey has a PhD in cultural geography from the University of Ottawa. She joined the faculty of kinesiology in 1995 where she is currently serving as assistant dean. 

 She is also very active as a volunteer in a wide variety of community groups.
Renaissance College is home to Canada's first leadership studies bachelor program. Undergraduate students receive a bachelor of philosophy degree, named in the Cambridge-Oxford tradition. The program uses hands-on, social learning extensively and promotes experiential learning through internships and other community organization projects. It fosters strong academic development, practical leadership skills and critical thinking in a unique and comprehensive program.
Renaissance College also works jointly with other departments at UNB to offer a master's of philosophy in policy studies, a bachelor of integrated studies for mature students completing a degree, and a certificate in leadership.
For media inquiries, please contact Kelsey Seymour.