Ben Tippett uses physics to explain everything
Author: Communications
Posted on Jun 25, 2013
Category: UNB Fredericton , myUNB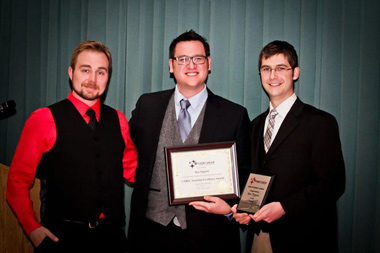 You might expect a mathematics instructor who is an expert on space-time curvature to offer theories about black holes—and maybe even time travel—but A Unified Theory of Superman's Powers?  
When Ben Tippett meets someone new, he asks: what do you want to learn?  The curiosity that pushed Tippett to complete a PhD in mathematics and statistics at the University of New Brunswick seems to be infectious.  
"I believe that anyone can understand anything from the world of science, if properly explained," Tippett comments. "Einstein? Quantum Mechanics? There's nothing so clever that can't be understood by anyone who is interested."
Though Tippett's papers on superheroes and monsters have yet to join his other peer-reviewed publications - including a forthcoming book chapter on zombies - it is this imagination and energy that won him the 2012-13 University of New Brunswick Student Union Teaching Award this spring.
For a hint of what a lecture with Tippett might be like, you can listen to the Titanium Physicists Podcast on his website, which has received over a quarter of a million downloads.
To arrange a media interview, contact Kelsey Seymour.