Eddy Campbell named one of Atlantic Canada s top CEOs
Author: Communications
Posted on May 9, 2013
Category: UNB Fredericton , myUNB , UNB Saint John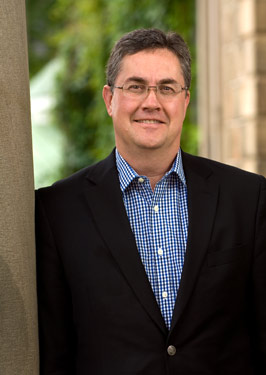 University of New Brunswick President and Vice-Chancellor Eddy Campbell has been named one of Atlantic Canada's top CEOs.
The winners of this year's Atlantic Business Magazine competition were celebrated at an awards gala held on May 8 at the World Trade and Convention Centre in Halifax, N.S.
Since being selected as UNB's president in 2009, Eddy Campbell has sharpened the university's mission despite managing through difficult financial times, said Kathryn McCain, chair of the university's board of governors.
"Eddy's first priority was to develop a strategic plan for UNB, which allowed us to focus more of our efforts on entrepreneurship, innovation and experiential education" said McCain.  "In providing opportunities for us to take a hard look at who we are and where we want to go as a university, Eddy's leadership has set the stage for UNB's impact to be felt even more greatly in the province and across the country as a whole."
Campbell said he is humbled by the recognition and honoured to work with so many thought-provoking leaders at UNB.
"Working closely with world-class researchers and educators, as well as with successful entrepreneurs such as Richard Currie, Desh Deshpande and Gerry Pond, has been educational," added Campbell. "Their commitment to giving back to Canada and the region is particularly inspiring. Their example motivates me to leverage UNB's resources for the benefit of Atlantic Canada, most notably in terms of spreading the entrepreneurial spirit and helping to keep our talent here at home."
A professor of mathematics, Dr. H. E. A. (Eddy) Campbell holds two degrees from Memorial University of Newfoundland and a Ph.D. from the University of Toronto.
He has extensive experience in university administration, having served as president and vice-chancellor (acting) and vice-president (academic) at Memorial University in St. John's, N.L. and has held other senior positions at Queen's University in Kingston, ON.
A past president of the Canadian Mathematical Society, Campbell currently serves on the boards of Future NB, Invest NB, the Atlantic Provinces Economic Council, the Huntsman Marine Science Centre and represents UNB on the New Brunswick Business Council, where he advocates for a 'Smart(er) NB.' He is also a member of the provincial government's recently established Innovation and Research Council.
This recent distinction by Atlantic Business Magazine follows on the heels of other recent accomplishments for UNB, including being named one of the top employers in both the Atlantic region and Canada-wide. UNB also increased its standing across a number of categories in Maclean's most recent annual university rankings.
Atlantic Business Magazine's Top 50 CEO awards are Atlantic Canada's premiere celebration of corporate leadership excellence. Nominations are submitted by readers and nominees are judged according to: their corporate, community and industry leadership; their company's growth in recent years; and, their unique managerial abilities.
Winners will be profiled in the May/June edition of Atlantic Business Magazine.
For media interview requests, contact Natasha Ashfield.