UNB students celebrate Bhutanese New Year
Author: Communications
Posted on Feb 14, 2013
Category: UNB Fredericton , myUNB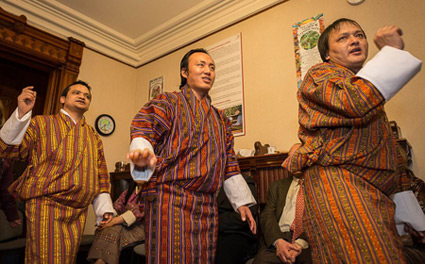 About 60 people attended an event held earlier this week at UNB's Renaissance College (RC) to celebrate the Bhutanese New Year.
Among the attendees were faculty, staff and students from RC, education, engineering, nursing, computer science, the International Student Advisory Office and the Office of the Vice President Fredericton (Academic).  Community members who were instrumental in welcoming Bhutanese students to Fredericton also came to celebrate.
Every year, four RC students spend 10 weeks in Bhutan as part of their international internship. RC works closely with Sherubtse College, Royal University of Bhutan, on a variety of projects related to leadership. This past month, RC received two Bhutanese lecturers involved in the Sherubtse Student Leadership Program on a faculty visit.
The event consisted of lots of food, dance, and socializing. It was organized by the UNB Bhutanese Student Association in partnership with the Renaissance College, with contributions from UNB's faculty of education.
For media interview request, contact Natasha Ashfield.