Education faculty looks to offer new online program
Author: Communications
Posted on Feb 27, 2013
Category: UNB Fredericton , myUNB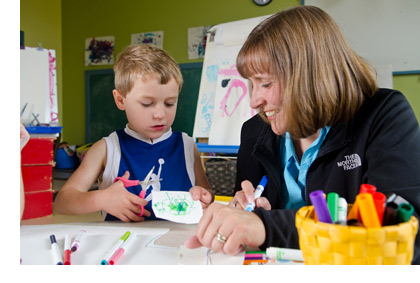 UNB's faculty of education has partnered with the Margaret and Wallace McCain Family Foundation and the Jimmy Pratt Family Foundation to conduct a feasibility study into an online bachelor of education degree in early childhood education.
UNB hopes the study will provide the foundational information to create a pathway for students to complete existing early childhood education diploma/certificate programs at the college level and then transfer into a UNB program and complete their education while continuing to work in their communities.
The study will explore opportunities to collaborate with colleges and universities in the Atlantic provinces so as to ensure a comprehensive program that is accessible to practitioners.
Dr. Ann Sherman, dean of education says children in Atlantic Canada deserve well-qualified early learning educators who have the opportunity to blend teaching experience with new learning.
"An online program, that continues the work of partnering colleges, will increase the quality of professional growth opportunities for these educators," said Dr. Sherman. "We are pleased to share this unique collaboration with other universities and colleges as well as the private philanthropic foundations. This partnership demonstrates the importance of young children and the growing understanding that high quality education for them is essential."
The Foundations will jointly fund the project while UNB conducts the study.