UNB s youngest student is back on campus
Author: Communications
Posted on Jan 2, 2013
Category: UNB Fredericton , myUNB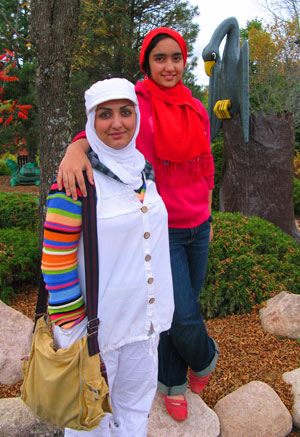 Soudeh Oladi, returned to UNB last year to pursue a PhD in education - 15 years after she enrolled as a first year student. At the age of 15, Soudeh could very well be the youngest person to ever be accepted as a UNB student. She came to Canada when she was 11 years old while her father, Djafar Oladi, obtained his PhD in forestry.
Now Soudeh's daughter, 11-year-old Boshra Mollaee, will grow to tell the same story as her Mother about how she came to Canada. Although the seventh grade George Street Middle School student has a few years before applying to university, she's still a bright little girl just like her Mother.  
Soudeh says a passion for learning was instilled in her at a very young age and she tries to instill this passion in her own daughter.
"My parents' emphasis on education was the most central issue in my life from an early age," said Soudeh. "I can still remember my father talking about his supervisor, the late Dr. Mark Jamnick. Even though I had never met him, I continued to hear about his wonderful contributions and he became a fixture in our family conversations at home."
Soudeh says the experience of living in Canada as a teenager helped shape her appreciation for what can be learned from one another and the importance of embracing different cultures.
"Being the youngest person to get accepted to UNB at the time and getting a Presidential Bursary was a confidence booster for me and taught me to never stop vying for greater achievements in life," said Soudeh.
In 1996, after studying joint Arts and Science at UNB for one year, Soudeh's father completed his degree and the family moved back to Iran. With a newfound confidence and motivation behind her, Soudeh completed her masters degree in education and taught at the prestigious Tehran University Medical School, while raising her young daughter.
Last year Soudeh moved back to Canada to pursue her PhD just as her father had; and Soudeh's daughter, Boshra, started a life in Canada at the age of 11 just as her Mother had at the same age.
Soudeh is grateful her daughter is getting to experience life in Canada because she said travelling abroad proved to be one of the most amazing ways to broaden her mind and experience of the wider world.
"Coming from a diverse cultural background, with my mother being a Turk and my father coming from the picturesque northern terrains of Iran, helped me to embrace new situations with a sense of challenge and adventure. For the first time in Boshra's life, she's being confronted with the rich and vibrant social and cultural realities of Canada where she, too, is learning to share her own cultural experiences."
Besides pursuing a PhD and caring for her daughter, Soudeh works as a family-support program advisor at UNB's International Student Advisor's Office where they offer services to the children and spouses of international students: an issue she identifies with wholeheartedly.
Kathryn Gates, the international student advisor at UNB, was immediately impressed when she first met Soudeh.
"We are very lucky to have Soudeh as one of our ISAO peer advisors. She is very engaging, easy to talk to and committed to contributing to the community around her whether she is in Fredericton or Iran. Her work with us is centered around supporting the spouses of international students.  When I talked with her about this project I discovered that much of what we had in mind - reaching out to women, assessing the needs, and helping to develop support networks - she was already doing informally."
Thanks to Soudeh, this year the family support program has hosted several successful events and has reached more women than ever before.  Soudeh says the best part of her job is to be able to assist families of international students transition to life here in Fredericton.
"The spouses and children of international students somehow become collateral damage for the duration of their partners' study," said Soudeh. Many of these women are educated and have considerable work experience back home but once they come here they become solely preoccupied with their husbands' studies."
Soudeh says she can relate to many of these women, having overcome similar challenges, and she is very passionate about helping them find their voice.
Inspired by her parents' encouragement to be well-educated, and cultured through her experience of travelling, Soudeh has learned and grown a lot since her first year at UNB at the remarkable age of 15. She said her father used to always say 'if you want people to respect you, first you must respect yourself'. At this point in her life, Soudeh says she has gained that self-respect by being a phenomenal student and most-importantly, an even better mother.