UNB hosts science with impact workshop
Author: Communications
Posted on Jan 28, 2013
Category: UNB Fredericton , myUNB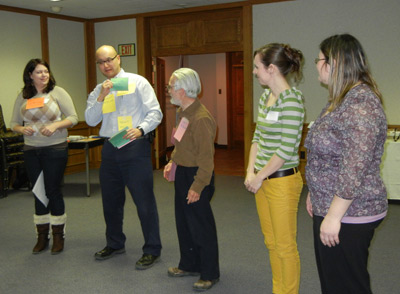 UNB profs. and students will learn to think outside the box to engage youth about the fascinating areas of science.
The science with impact workshop will be held on Friday, Feb. 1, at Marshall D'Avray Hall, Room 334-1, UNB Fredericton, at 9 a.m.-12 p.m.
Funded by The Canadian Institutes of Health Research (CIHR), the workshop provides a hands-on outreach-training workshop for university scientists, researchers, students and professionals. Developed and facilitated by Let's Talk Science, the workshop provides participants with effective strategies to plan and conduct science, technology, engineering and math outreach with all age groups of youth in a variety of settings.
Past workshops have resulted in graduate students and faculty working together to perform a rap song about circulation and role playing the movement of blood through the body.  Media are invited to attend the workshop. The best time to arrive for photo/interview ops. would be after 10:30 a.m.
For more information or to register, contact Susie Taylor, susietaylor@letstalkscience.ca or 1-877-474-4081 ext. 240.  
For media interview request, contact Natasha Ashfield.