UNB students to share their experiences in Malawi
Author: Communications
Posted on Nov 8, 2012
Category: myUNB , UNB Fredericton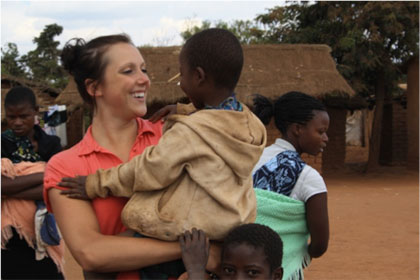 This past summer, seven UNB students from the faculties of nursing, kinesiology, law, arts and engineering participated in the UNB Students for Development Program funded by the Government of Canada and administered by the Association of Universities and Colleges of Canada.
UNB will host Malawi Night where students will share their experiences with the public on Monday, Nov. 12, at 5 p.m.- 7 p.m. in Room 53 of MacLaggan Hall, UNB Fredericton. 
This program provides UNB students an opportunity to live and work overseas while participating in real and relevant projects associated with health education, community development, land, and good governance.
The seven students worked in the areas of community health, education, and youth development in Malawi - one of the world's poorest countries.  Katie O'Shea and Kelli Skinner, 4th year nursing students at UNB, secured more than $5,000 in medical supplies through a partnership with Health Partners International Canada.  This contribution helped local medical staff treat 735 men, women and children when no other services were available.
Melissa Foster, a 5th year Kinesiology student worked with Feed the Children and three community-based childcare centres to make sure 240 children, under five years of age, received at least one meal a day.  She also assisted the Active Youth Organization to weigh and measure these children to identify those children most at risk for malnutrition.
Through the Students for Development Program and the Canadian International Development Agency (CIDA), UNB students not only experience life in Africa, but they build outstanding skills, knowledge and experience as they enter the Canadian workforce.
Katie O'Shea (NURS), Kelli Skinner (NURS) and Melissa Foster (KIN) will share their experience in Malawi. Esnath Kapito, UNB's first masters of nursing intern from Malawi will also share her experience.
The event is free and open to the public. Refreshments will be provided by the Multicultural Association of Fredericton. 
To request a media interview, contact Natasha Ashfield.