Saint John Faculty of Business honours its top instructors
Author: Communications
Posted on Nov 26, 2012
Category: UNB Saint John , myUNB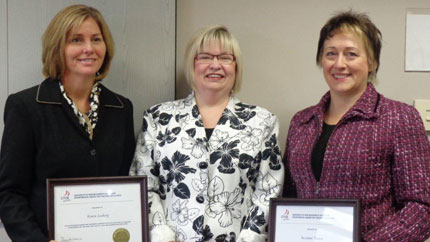 The Faculty of Business is pleased to present Departmental Awards in Teaching Excellence to Karen Ludwig and Suzanne Tucker.
Award nominees show leadership, demonstrate creativity and innovation and create positive learning environments for students to excel.
Karen Ludwig has a great passion for teaching, impact on student learning, knowledge and creativity which is why she was chosen by her students to receive the award. She demonstrates an unwavering commitment to incorporating active student learning and real-world activities in all of her classes; they are learning first hand what it is like to work in the real world.
She joined us in 2007 teaching as a part time instructor in the International Business Stream of the MBA Program. She designed and delivered 8-week modules on International Trade Management. She also worked at designing, developing and delivering curriculum for online courses at the Masters of Education Program in Fredericton.
Karen has a diverse career history having worked as a Senior Researcher for Human Development Council, a Sociology instructor at UNB Saint John, owned her own consulting company, and worked as a business-training consultant.
Karen is currently working on her PhD in Education Studies through UNB. She received her Masters of Ed Adult Education from UNB and her Master of Arts, Sociology and BBA from the University of Guelph.
Suzanne Tucker takes a very strong interest in her students' successes and strives to make the learning experience relevant. Her practical work experience, combined with her education, enables her to bring the practical perspective to the classroom. Her learning approach has always been one of a problem solving mentality, decoding theories and concepts with others.
She has been a stipend instructor in Accounting with the Faculty of Business since 2004.  Suzanne received her BBA and MBA from UNB and her CMA in 2002. In addition, Suzanne has a rich work history beginning with IOL as Accountant Supervisor, then with Bell Aliant as Manager of Financial Analysis/Controller.  In 2007 she joined Mariner Partners Inc. as Comptroller then was offered the position as CEO of the Society of Management Accountants of NB in 2011.
Her most recent position was that of CEO of The CFO Edge, Inc. until she began this past August in a full time term position as Instructor at the Faculty of Business.