Women s Studies retreat pays tribute to Linda Kealey
Author: Communications
Posted on Oct 26, 2012
Category: UNB Fredericton , myUNB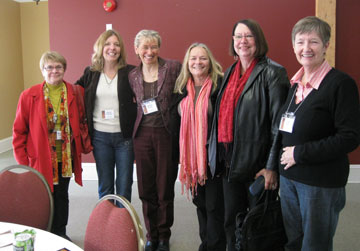 The following was read during the UNB Women's Studies Retreat, on Oct. 12, 2012:
Prepared by Dr. Carmen Poulin.
It is a pleasure and a great honour for me to be given this opportunity to pay tribute to Dr. Linda Kealey and to thank her sincerely on behalf of all of the people involved in the Women Studies Program at UNB Fredericton, both students and faculty members, many of whom could not be here today, unfortunately.
In preparing this text, I thought I would provide a few highlights of Linda Kealey's professional achievements, as they are vast and varied. One of my aims is also to emphasize the wealth of knowledge Linda Kealey brought to us when she joined the UNB Women Studies Program Faculty in 2002 given that this background information is completely unknown to many of us and deserves to be celebrated.
Dr. Kealey's educational training took place at the University of Toronto where she completed a BA in Sociology, a Bachelor of Library Science (BLS), and an MA in History under the guidance of the renowned Professor of History at the University of Toronto, Dr. W.H. Nelson, who is known for his work on the Loyalist's legacy and books such as The American Tory (1961). Linda then completed a PhD dissertation in History, which was entitled "Crime and Society in Massachusetts in the Second Half of the Eighteenth Century."
Dr. Kealey's general areas of academic interest of late are Women and Gender in History, the History of Health and Health Care and Canadian Social History. Her most current research has focused on nursing work and its organisation in the New Brunswick context during the post Second World War period. She has also examined the history of young women migrants in Newfoundland in the 20th Century.
Over the years, Dr. Kealey occupied two main academic positions: One at Memorial University of Newfoundland where she started as a visiting Assistant Professor, and she ended her stay as a Full Professor and Head of the Department of History.
She was welcomed to UNB, Fredericton Campus, as a Full Professor in April of 2002. For Dr. Kealey, this move must have represented a difficult choice between leaving behind an established career at Memorial University where, as I mentioned, she occupied the position of Department Head in History. This move was precipitated by the decision to follow her husband, Dr. Greg Kealey, who took the position of VP Research at UNB.  For a feminist and a well-respected and established career woman, this decision could not have been an easy one to make.
For UNB, for the History Department, and for Women Studies, of course, this was a tremendous gain.
Linda Kealey has received numerous recognitions for her excellence, including being named a Fellow of the Royal Historical Society of Great Britain.
As a teacher and instructor, she has offered various courses such as the History of Sexualities, Women in Canadian Society, Canadian Women's History, Health and Disease in Historical Perspective, A History of the Body, and the list goes on. She was involved in Curriculum Development for the Master's of Women's Studies at Memorial University of Newfoundland in the early 1990s and even in the development of the Women's Studies Minor Program at MUN.
Dr. Kealey has supervised many PhD, MA, and BA students in both History and Women Studies and served on numerous graduate students' committees in both supervisory and examining roles, at UNB, at MUN, and at various universities. This is a testimony to the recognition she enjoys in her fields of study.
I did not count how many published scholarly and creative articles and conference proceedings she has published and presented, or how many chapters she has contributed to published scholarly works, as this would have been too long a task. But, I will mention that Dr. Kealey is the author or co-author of three books that contribute importantly to the documentation of women's history in Canadian politics, in the quest of women for equality, and women's place when considering Labour and the Left in Canada. She has been on the editorial boards of various scholarly journals in History and let me mention a couple related to Canadian Women studies in particular: Atlantis and CRIAW (Canadian Research Institute for the Advancement of Women publication series). These are two of the few long-lived Feminist institutions in Canada. And, speaking of scholarly publishing, of course, her expertise has been sought to review a great many manuscripts for various scholarly journals.
Dr. Kealey has secured numerous research grants from funding agencies such as the Social Sciences and Humanities Research Council and the Hannah Institute for the History of Medicine. She has also sat on numerous adjudicating committees to assess candidates and applications for prestigious programs such as the Killam Competition and SSHRC research grants.
She has held the role of President or Chair for organisations such as the Canadian Women's Studies' Association and the Canadian Committee on Women's History, which is affiliated to the Canadian Historical Association.
Finally, most of us only know Linda Kealey in a limited but significant way as one of our past Coordinator of the Women's Studies Program, one who has kept up her interest in this important program, and attended meetings and events faithfully and in an exemplary fashion. Of course, we also know how she brought UNB a great deal of credit by spearheading (as Academic Convenor) the organization of the 2011 Congress of the Humanities and Social Sciences. This scholarly meeting welcomed more than 6000 researchers to the city of Fredericton for Canada's largest and most significant interdisciplinary academic gathering. For those not familiar with it, the Congress is the largest single event that was ever held in Fredericton!
Yes, I could go on. But I hope that you can now appreciate some of the wealth of knowledge, experience, commitment, scholarship and accomplishment as both a feminist and a historian that Linda Kealey brought to us when she made that undoubtedly difficult decision to move from MUN to UNB. This is a tribute to you Linda and a heartfelt "Thank You" for your contribution to both UNB and Canadian Feminism and Scholarship.
Please join me in applauding and recognising Dr. Linda Kealey.
Dr. Poulin and Dr. Kealey have been colleagues at UNB since 2002 and have shared several years of commitment and dedication to the maintenance and academic quality of the UNB's Women Studies program. Like Drs. Wendy Robbins, Anne Brown, and other faculty members involved in the teaching of Women Studies courses, they both occupied the position of coordinator at some point since the creation of the program.