UNB announces new Canada Research Chair Ying Zheng
Author: Communications
Posted on Oct 13, 2012
Category: myUNB , UNB Fredericton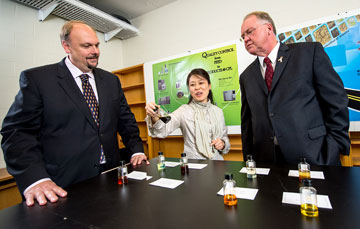 Ying Zheng, the newly named Canada Research Chair (CRC) in Chemical Process and Catalysis, and her team have received a financial boost today to continue their research in finding more cost-effective ways of producing biofuels.
Dr. Zheng, a professor and researcher with the University of New Brunswick's department of chemical engineering, will receive $500,000 from the CRC program over the next five years to continue her research. 
"This Chair will allow me and my team to build on and investigate previous discoveries of catalysts and catalytic processes and well as develop high-quality biofuels that are cost-effective and compatible with petroleum fuels," said Dr. Zheng. "The ultimate goal of our research is to find ways to produce new biofuels that will reduce emissions and require less energy consumption."
The announcement was made today at UNB Fredericton by Minister Keith Ashfield, Member of Parliament for Fredericton.  It is part of a larger Government of Canada CRC announcement that coincides with National Science and Technology Week.
"Our government's top priority is creating jobs, growth and long-term prosperity," said Minister Ashfield.  "By investing in talented people through programs such as the Canada Reserch Chairs, our government is supporting cutting-edge research in Canadian post-secondary institutions.  This fosters innovation by helping researchers bring their ideas to the marketplace, where they can touch the lives of Canadians."
Former UNB CRC recipients were also recognized at today's announcement:
Michael Haan, Canada Research Chair in Population and Social Policy; Elizabeth Mancke, Canada Research Chair in Atlantic Canada Studies; and Doug Willms, Canada Research Chair in Literacy and Human Development.
For more information, contact Natasha Ashfield.