PowerShift Atlantic gets national recognition
Author: Communications
Posted on Oct 24, 2012
Category: myUNB , UNB Fredericton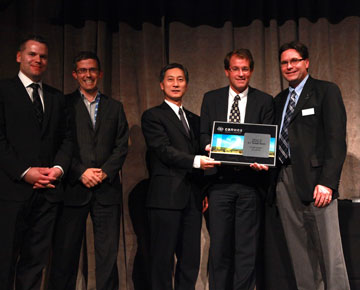 PowerShift Atlantic received the R.J. Templin Award at the Canadian Wind Energy Association (CanWEA) annual meeting held in Toronto recently.
The R.J. Templin Award was first awarded in 1985. It is to recognize any individual or organization who has undertaken scientific, technical, engineering or policy work that has significantly advanced the wind energy industry in Canada. 
Dr. Liuchen Chang, professor of electrical and computer engineering at UNB and Michel Losier, director of PowerShift Atlantic, NB Power, received the award in honour of PowerShift Atlantic.