UNB internationalizes its nursing program
Author: Communications
Posted on Sep 18, 2012
Category: UNB Fredericton , myUNB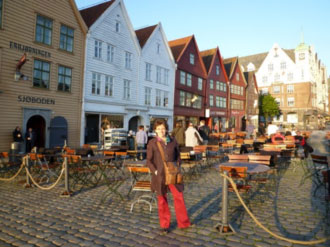 To meet the challenging healthcare demands of a shrinking world and an increasingly mobile population, the University of New Brunswick has taken steps to further internationalize its renowned nursing program.
In recent years, the faculty of nursing at UNB has put a strong focus on integrating international education into its academic and extra-curricular programming. Nursing students interested in gaining international experience now have the opportunity to complete a clinical practicum in Sweden through Umea University, enroll in a nursing course at Bergen University College in Norway (HiB), or spend three months promoting health education in Malawi through a CIDA-funded internship. Domestically too, UNB's nursing program has become more international in nature by accepting nursing students from abroad on exchange. In addition to their academic course loads, these international students complete a clinical placement focused on primary health care at the Fredericton Community Health Clinic, at the UNB Community Clinic, with the Chimo Helpline, and through extramural nursing placements.
"The goal of these internationalization efforts is to broaden the understanding of health issues and strengthen the capacity of future nurses to understand the health care experiences of clients and practitioners form other countries and cultures around the world at a time when global borders are permeable and citizens of international countries are migrating to Canada," said Gisele Gallibois, coordinator of UNB's international nursing studies program. "On the flip side, UNB's nursing students are bringing a Canadian perspective and expertise to other countries around the world. They are opening doors of understanding, compassion, care and reciprocity amongst clients and professionals in health care fields."
Ms. Gallibois points out that students also connect with mentors and peers in host countries, forging life-long relationships that will serve them well in their future careers. Overall, Gallibois argues, these initiatives have brought an international dimension into the teaching, learning, research and networking of the faculty of nursing and have benefited UNB as a whole.
"Because of its very structured and intensive academic and clinical practice requirements, the faculty has to be creative in successfully introducing international elements that enable students to benefit from an internationalized experience as part of the overall nursing degree requirements," add Gallibois. "In 2008, a 3-credit course - Cultural Encounters in Nursing - was introduced and is open to any nursing student interested in enhancing their knowledge and competency in working with individuals and groups from diverse ethnic, racial and cultural backgrounds. This is a pre-requisite course for any nursing students going on an international clinical exchange." Throughout the course, students gain insight into their own worldview and values and become aware of how these influence their nursing practice. Since its inception, forty-four UNB Nursing students have completed the course, and the interest level is steadily rising.
These initiatives in international nursing have been spearheaded by Gallibois in recent years, along with Dolores Furlong (chair of the international nursing committee) and Silke Klenk (from UNB's international relations office).  There has been active collaboration between faculty members of the partner universities and joint initiatives have included exchange visits, co-presentations at conferences, team teaching and joint research projects. A joint study is planned to be published in an on-line journal in 2012 and Dr. Furlong has delivered a series of presentations for the Bergen University College Faculty of Nursing on her research method and on Canadian health care topics, and has participated in workshops on best practices in international and cultural exchange.
"Working with the Bergen University College team has been a fruitful collaborative venture. We've grown from meaningful cultural exchanges for undergraduate nursing students to having nurse educators and students participate in each other's programs, present at local and international conferences, examine how these opportunities challenge us, and then write about what changes this knowledge brings.  It's been a rewarding academic partnership that we've very pleased about," says Dr. Furlong.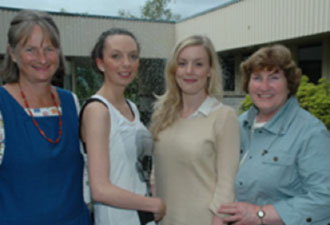 Every term, the faculty of nursing hosts several international nursing awareness evenings, providing an opportunity for nursing students who have participated in an international experience to share their time overseas, as well as visiting international students to report on their impressions of how the Canadian healthcare profession differs from their home country. Guest speakers on global health issues are also often invited, and have included James Orbinski, humanitarian advocate and past president of Doctors Without Borders, Dana Hanson, former president of the World Medical Association, the Africaravan (African grandmothers and granddaughters), as well as Arlyn Beech from the International Development and Research Centre.
According to students, these internationalizing efforts are paying off. Some of the challenges they face during their clinical experiences result in ethical dilemmas that need to be resolved on the spot. They also face challenges related to language and exposure to high-risk situation. Malene Nese Paulsen and Carina Vagenes, students from HiB in Norway, point out that their experiences from practicing in another country even resulted in an opportunity to hold a presentation at a major international conference in Paris. The response to their presentation - Narrative Matters: Life and Narrative - from the Paris conference audience was positive and their session went overtime due to the number of questions and level of engagement from the crowd.
Both Carina and Malene were professionally supervised and guided during their stay by Gisele Gallibois and the nurse practitioners of the Community Health Clinic, as well as the experienced crisis intervention staff at Chimo Help Line.
"Not only have these been extraordinary experiences in terms of professional development," says Carina, "they have also been remarkable life experiences."