Alumnus honours father helps students by establishing award
Author: Communications
Posted on Sep 27, 2012
Category: UNB Fredericton , myUNB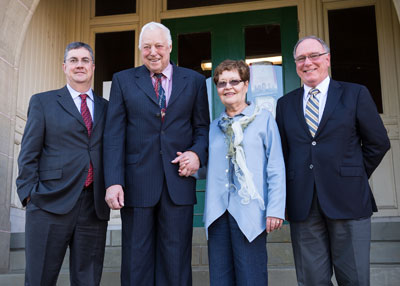 FREDERICTON – When John Abernethy (BSE CE '57) made the switch from studying forestry to engineering at the University of New Brunswick, he couldn't have known the journey he was about to begin.
His work in the field of construction engineering, managing projects both large and small, led him from remote parts of the Canadian north to South America and Australia. He's often said his career has not felt like work because of the passion he has for construction engineering. On Thursday, his journey brought him back to UNB as he began the process of sharing that passion with a new generation.
President and vice-chancellor of UNB, Eddy Campbell, announced the creation of the Wilson W. Abernethy Award in Construction Engineering. The award is named in honour of John's father and was established through a leadership gift of $200,000 from John and his wife Gail. The Wilson W. Abernethy Award in Construction Engineering will provide a student with an annual award of $8,000.
"Increasing the amount of financial awards available for students is a top priority at UNB and having alumni step forward and help us achieve this goal is important to all of us here at UNB," said Dr. Campbell.
The dean of the faculty of engineering, Dave Coleman, said John and Gail's gift will be a great addition to the faculty.
"We produce the best engineering graduates in the country and this award will serve to help those deserving students continue their education and earn their degrees," Coleman said. "John and Gail's generous gift is an indication of the strong bond formed between UNB and its alumni."
Both John and Gail were on hand for the announcement as the pair returned to celebrate Homecoming at UNB with John reconnecting with friends from the class of 1957.
"Exemplified by UNB and recognized by my father, there is much more to a successful outcome of the university experience and life than technical capability. I am pleased and proud to acknowledge their support," John said.