Teaching for the Future at UNB
Author: Communications
Posted on Jun 28, 2012
Category: myUNB , In the Media
More than 100 students and faculty from the University of New Brunswick's faculty of education participated in a workshop entitled "Teaching for the Future: Computational Thinking in Teaching and Practice" recently.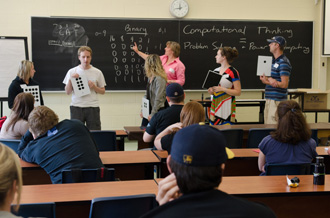 The workshop, hosted by UNB's faculty of computer science, was sponsored by Google's Computer Science for High School program. It introduced future teachers from the faculty of education to the concept of computational thinking through engaging guest speakers, interactive activities, and facilitated discussions. 
The purpose of the event was to encourage future teachers to incorporate computational thinking practices into their classrooms, so they are prepared to teach students fundamental computing ideas that are an essential part of K-12 education in the 21st century. Through this teaching and learning, more students will become aware of and choose careers in the information and communication technology sector. 
During the workshop, teachers from Riverview High School and Leo Hayes High School shared their successes in teaching computer science and computational thinking. They provided examples of students who were so inspired they would come to class early, stay in class during lunch break and remain after school to ask for more homework.
Throughout the day, participants in the Teaching for the Future workshop participated in five different activities, teaching computer science concepts such as logic, sorting networks, binary counting, parity, and encryption.  The participants were also given physical and electronic resources to facilitate the incorporation of these activities in their own classrooms. 
In the afternoon, participants brainstormed with peers and representatives from the faculty of computer science about ways to incorporate computational thinking in their future classrooms in all areas of the curriculum. A final group discussion summarized the findings and left students with an overall understanding of the day's events. As one participant noted, "At the end of the day, I certainly saw the point – we, as educators, need to include problem solving, logic-based, and higher order activities in our teaching."
The faculty of computer science wishes to thank the faculty of education for its partnership, and Google for its financial support. The faculty of computer sciences hopes to make the workshop an annual event.
For more information about computational thinking or the Teaching for the Future workshop, please contact Debbie McAnany at mcanany@unb.ca
For interview requests, contact Greg Carriere at
gregoire.carriere@unb.ca
 or (506) 453-4546.