Congratulations to the Class of 2012
Author: Communications
Posted on May 22, 2012
Category: myUNB
It was my great pleasure this past May to watch so many students I have come to know and admire over the years cross the stage to receive their degrees. The following is my address to UNB's Class of 2012.
Eddy Campbell.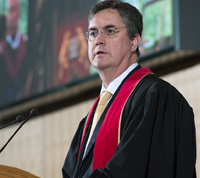 University of New Brunswick's Encaenia and Convocation Ceremonies
President's Address to Graduates
May 2012 
Your Honour, members of government, Mr. Chancellor, Members of the Board of Governors, distinguished guests, ladies and gentlemen, and most importantly… graduates:
For over two hundred and twenty-five years, UNB's primary mission has been to educate young minds – young minds of all ages. It's a responsibility we take very seriously because its impact is so broad. The degree you have earned will influence not only your future path, but those of many others once you leave UNB.
Each of you is different today than when you arrived several years ago. You've grown. You've matured. You've learned – not only from your textbooks and professors, but from each other as well.
Within our halls, generations inter-mingle, cultures interact, and ideas are shared and developed. For those who participate in this mosaic of activity, the experience is a rich one. Each of you has learned this over the course of your time here. 
The richness of these interactions extends beyond UNB, spilling over into our community and beyond. In other words, the things we do inside these walls have an impact outside them.
In its brief time at UNB the class of 2012 has done more than simply study and socialize. The class of 2012's impact has been greater than that – so great, in fact, it extends far beyond our university and touches many others in many different ways.
Collectively, you have volunteered countless hours to student clubs and organizations, to residence committees, and to community non-profits. You have raised tens of thousands of dollars for local, provincial and national charities. You have contributed to research and projects that advance society's understanding of complex issues and problems. And, you have used your training and know-how to offer services to those who desperately needed them.  
As I run through this very condensed list of the ways in which you have made a significant difference to both UNB and the wider community, I'm reminded that UNB lost a close friend just a few weeks ago. Tom Condon was a professor, a dean, and an administrator here for many years. He left an imprint on UNB that will be forever visible, but he was also an ambassador to the world outside our walls. 
Tom lived his life to serve others, and it's his example that I see in each of you as I glance out over this gathering. 
I can't help but think he would be terribly proud of you today, not only for achieving your personal goals, but for helping to make UNB and its surrounding community better over the course of your time here. 
You leave here today with new tools, new knowledge. But you carry with you the sense of duty and compassion that you've been kind enough to share with us for the past three, four, maybe five years. 
There's a tangible spirit of community on UNB's campuses. You can feel it in the air here today. It's a spirit that's perhaps best exemplified by the graduates who travelled thousands of kilometres from Singapore just to share in this experience with their fellow classmates. 
For a brief period of time each of you, no matter your physical location, called UNB "home." And, for a brief period of time, you helped make us better. You helped us reach out beyond our walls. You helped us make an impact. 
I look forward to hearing more about each of your individual impacts in the months, years, and decades to come. I have no doubt that they will be significant. 
Congratulations to each of you – graduates of UNB's class of 2012!