BMO Centre Officially Opens at UNB Fredericton
Author: Communications
Posted on Sep 20, 2011
Category: myUNB , UNB Fredericton
On Sept. 17, BMO Centre was officially opened on the UNB Fredericton campus. 
Earlier this year BMO Financial announced a gift of $1.75 million, the largest gift to the university from a single corporate partner, with $1 million of the gift going to enhance the Varsity Reds soccer program.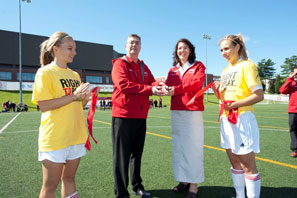 "I'm excited to be a part of a significant milestone in the 122-year partnership between UNB and BMO Financial Group with the official opening of the BMO Centre," said Christine Cooper, Vice-President, New Brunswick and PEI, BMO Bank of Montreal. "This brings together our long standing association with UNB with our support for soccer across Canada from the grassroots to the professional level. My colleagues and I look forward to supporting and cheering on the Varsity Reds at BMO Centre."
With new signs on the clubhouse and around the field, it looks like a brand new facility.  Construction is almost complete on the clubhouse attached to the turf facility, with offices, soccer changing rooms and washrooms, and an artificial turf.
"To operate any type of winning program it involves many aspects, but at the core it is really about two things, building meaningful relationships and forming strategic partnerships," says John Richard, Director of Athletics. "Our relationship with BMO Financial Group is one of the best examples I will ever be able to use when I speak of meaningful relationships and tremendous partnerships."
BMO Centre will be home to the Varsity Reds soccer teams as well as the URec Red Bombers football team and other club sport teams and will be used extensively by the greater Fredericton community.
"We are extremely excited to have a facility like the BMO Centre," said Andy Cameron, UNB's women's soccer coach. "Not only do we have a state-of-the art facility to practice and play in, but we have a great partnership with one of the country's biggest soccer supporters."
The UNB Varsity Reds will host the 2011 Atlantic University Sport women's soccer championship and the 2013 Canadian Interuniversity Sport men's soccer championship at BMO Centre and this funding will go a long way in helping to attract the top student-athletes to UNB.