Friends family and colleagues create scholarship in memory of Ashoki Sujanani
Author: Communications
Posted on Dec 17, 2010
Category: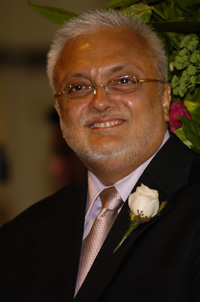 A scholarship has been created at the University of New Brunswick in memory of Ashoki Sujanani (BSE SE, '78), a highly respected and successful engineer nicknamed 'Santa Shoki' because of his giving nature. Sujanani passed away in November, 2010. The Ashoki Sujanani Scholarship is being spearheaded by Chris Gilliss (BBA '75) and his wife, Karen Perry, who were long-time friends of Sujanani.
 "Ashoki was many things to many people, but to us, he was family," said Gilliss and Perry. "There was no limit to his kindness and generosity. If someone needed him, he was there to help. That's why we created this scholarship, to honor his legacy."
At the age of 20, Sujanani came to UNB Fredericton from Hong Kong. He had worked for three years to save for tuition and living expenses and when he arrived, he quickly fell in love with New Brunswick and its people. For the rest of his life, friends say, he referred to New Brunswick as his home.
Following graduation from the Bachelor of Science in Surveying Engineering program in 1978, Sujanani worked as a survey engineer in Toronto and the United States before moving to Dubai. For the last 26 years he worked for Intergraph Corporation, the world leader in delivering software and services for the management and visual representation of complex geospacial information.
Sujanani was also UNB President Emeritus John McLaughlin's first graduate surveying engineering student. McLaughlin says, "There was nothing Ashoki couldn't handle – no mountain too high, and no ocean too wide. He always stayed in touch with his friends and he was always ready to lend a helping hand. Ashoki was one of the finest in his field and a dear friend to all who knew him."
As per Sujanani's wish, the Ashoki Sujanani Scholarship will be awarded to a student in the Bachelor of Arts program. Selection will be based on academic achievement, financial need and community involvement. The scholarship is valued at a minimum of $2,000 a year, renewable for up to four years.
 "I can think of no better tribute to Ashoki Sujanani than this scholarship," said Eddy Campbell, UNB's President. "Although the world has lost a man of remarkable generosity and compassion, he will live on through this award and the benefits it provides our hard working and deserving students."
To donate to the Ashoki Sujanani Scholarship, you can do so by going online at unb.ca/donations, or by telephone at 506-453-5120.