Forest Watershed Research Centre win CIF Award
Author: Faculty of Forestry & Environmental Management
Posted on Jun 8, 2017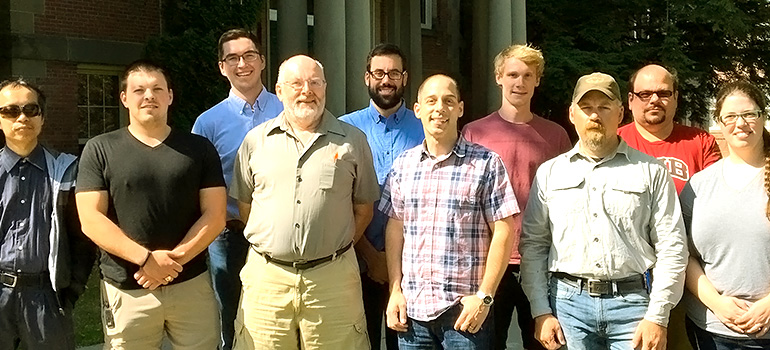 ---
Longtime UNB Forestry & Environmental Management professor Dr. Paul Arp, and his research team at the Forest Watershed Research Centre, were recently awarded the Canadian Institute of Forestry's (CIF-IFC) 2017 Canadian Forest Management Group Achievement Award.
The award was handed out at the 109th annual CIF-IFC AGM and Conference in Ottawa and recognizes the outstanding achievements by teams or groups of managers, and scientists in the field of natural resource management in Canada. Dr. Arp and his team are being recognized for their outstanding work in the exploration, application and excellence in research and science as it relates to using watersheds as primary research and management units.
The Forest Watershed Research Centre is a partnership of industry, university and government dedicated to the development, application and communication of watershed research — water, nutrients, air, energy, vegetation and soils. The centre promotes sustainable and integrated forest management policies and practices. 
The Forest Watershed Research team is led Dr. Arp and supported by research associate and GIS analyst Jae Ogilvie, research associate and lead lab instructor Mark Castonguay, Dr. Fan-Rui Meng and technician Jim Estey. 
Graduate students currently contributing to the Forest Watershed Research team include Doug Hiltz, Marie-France Jones and Shane Furze. Research partners include Gustavo Moran and Barry White.
For more information please visit the Forest Watershed Research Centre