Anthropology Graduate Students
Author: Tabatha Armstrong
Posted on Sep 4, 2018
Category: Student , Departmental , Arts , Research

Emma Andrews (BA, UNB)
Supervisor: Dr. Melanie Wiber
Emma's MA project is focused on tidal power development in the Bay of Fundy. Her research thus far has focused on the sustainability discourse, the impacts of tidal power, the environmental assessment process and frameworks for public participation. She conducted a policy gap analysis regarding the permitting process for in-stream tidal energy conversion installations in Canada and the United States. Her work will examine risk perception and tidal power environmental impacts in a transboundary context.
Contact: f129c@unb.ca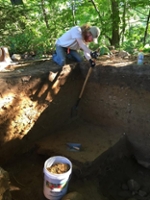 Chris Brouillette (BA, UNB)
Supervisor: Dr. Gabriel Hrynick
Chris previously worked as a field archaeologist in cultural resource management in the southern New England region and holds a B.A. degree in History and Anthropology from the University of Connecticut. His research interests lie in the lithic technologies of the prehistoric New England-Maritime region. Related interests include CRM, prehistoric archaeology, and experimental archaeology.
Contact: cbrouill@unb.ca
Marisa Forbes (BSc, UNB)
Supervisor: Dr. Amy Scott
Marisa completed her BSc Honours in Biology and Anthropology at the University of New Brunswick. Her MA research will focus on mercury poisoning and its relation to treponemal disease at the 18th century Fortress of Louisbourg, Cape Breton, NS. This project will provide new insights into the living conditions and general health of the population.
Contact: mforbes1@unb.ca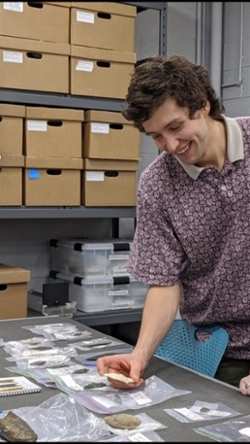 Al Honsinger (BA, University of Massachusetts Amherst)
Supervisor: Dr. Gabe Hrynick
Alexander completed his B.A. in anthropology at the University of Massachusetts Amherst. He has performed academic and contract archaeological fieldwork throughout New England and the greater Northeast. His research interests include raw material sourcing, lithic technology, and human mobility in the New England-Maritimes region.
Contact: alexander.honsinger@unb.ca
Margaret Horne
Supervisor: Dr. Susan Blair
Concentrating on coastal archaeology, Margaret is looking at shell middens in the Maritimes, with special interest in Nova Scotia and PEI.


Trevor Lamb (University of Maine, Orono)
Supervisor: Dr. Gabriel Hrynick
Trevor's interests lie broadly in the manifestation of ceramic technology during the Woodland Period in the modern day Maritime Provinces and New England States. He is especially interested in exploring patterns of vessel manufacture, and in exploring the nature and role of ceramics in Wabanaki society. He has been involved in excavations at various sites in coastal Maine, USA.
Contact: tlamb@unb.ca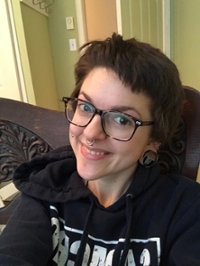 Erica Leblanc (BSSc Honours, University of Ottawa)
Supervisor: Dr. Koumari Mitra
Erica completed her undergraduate studies in anthropology at University of Ottawa. Her background is in socio-cultural and psychological anthropology. She is particularly interested in issues related to stigma, discrimination, social justice, LGBTQ+, body modifications and body image, as well as mental health. Erica's MA research will focus on the epistemic and practical tensions between clinical and traditional healing systems in New Brunswick within the context of cultural difference. She will be working with minority communities within New Brunswick to conduct an ethnographic study on the experience of disease and illness, mainly within the context of mental health. Possible communities include LGBTQ+, recent immigrants, indigenous peoples, adolescents and youth.
Contact: eleblan2@unb.ca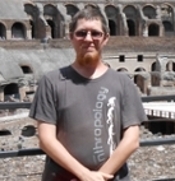 Andrew Luden (BA with Honours, University of Windsor)
Supervisor: Dr. Evelyn Plaice
Social Anthropology.
Topic of Interest: Politics of Education and the Construction of Knowledge.
Contact: Andrew.Luden@unb.ca


Mattia Fonzo (BSc - Trent University)
Supervisor: Dr. Amy Scott
Mattia completed her BSc in Forensic Science and Anthropology at Trent University. She will be working with human remains excavated from Rochefort Point at the Fortress of Louisbourg (1713-1758). Her research will focus on traumatic bone injuries and pathological conditions that the individuals at the Fortress endured throughout their lifetimes.
Contact: mfonzo@unb.ca
Nicole Hughes (BA Honours, Brandon University)
Supervisor: Dr. Amy Scott
Nicole graduated with her BA Honours in Anthropology from Brandon University. Her MA research will focus on the biochemical analysis of stress on the human remains excavated at the Fortress of Louisbourg in Cape Breton, NS. This project will provide an overarching comprehension of stress that affected the population by comparing the stress response between different elements within the skeleton.  
M. Sally McGrath (BA, UNB & BEd, St. Thomas University)
Supervisors: Dr. Maria Papaioannou and Dr. Susan Blair
Sally is doing an Inter-Disciplinary PhD in Classical Archaeology and Archaeosteology. She is interested in the Mycenaean period and the origins of the chariot horses used during the Bronze Age. She is currently examining horse bones from a mortuary site in Greece to determine where they were raised. Another aspect of her research involves iconography, and the new way horse images were presented during the Late Bronze Age (LHII-LHIIB) in Greece. Through studying iconography in other parts of the Mediterranean and Western Europe she is looking for these particular characteristics that appear in Greece.
Contact: M.Sally.McGrath@unb.ca