Meet Dr David Hofmann
Author: Fredericton Arts
Posted on Aug 16, 2016
Category: Departmental , Spotlight , Research , Faculty
BIO & RESEARCH AREAS

Dr. David Hofmann is joining UNB from the State University of New York (SUNY) Polytechnic in Utica, NY where he was an assistant professor of sociology/criminology. His main research interests include terrorism and political violence, charismatic leadership, right-wing extremism, apocalyptical and millenarian groups, and criminal & illicit networks.
When he's not busy delving into these topics he is an avid practitioner of Kendo, a Japanese martial art that is modeled after fighting with a katana. He is interested in starting a Kendo club at UNB so get in touch if you're keen on it too!
RESEARCH PROJECTS
Dr. Hofmann is currently working on two funded projects. The first is an examination of the Canadian Freemen-on-the-Land anti-government movement, and the other is a project that is aimed at mapping networks of social, operational, and ideological support of Canadian lone-actor terrorists using social network analysis methods.
BEST PART OF FREDERICTON SO FAR...
"The weather, believe it or not! Aside from the humidity, the summer here has been great. I've been told the winters are rough though, so my opinion may change…"
ADVICE FOR NEW STUDENTS?
"Don't be afraid to talk to your professors, in class, after class, or during office hours. One of my biggest regrets as an undergrad was not taking the time to properly leverage my professor's knowledge when writing papers, studying, or when I had problems with difficult concepts."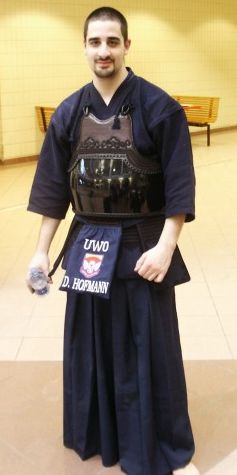 (David Hofmann decked out in Kendo armor - too cool!)