Arts Research Abroad Dr Derek Johnston discusses haunting horror and broadcasting during his visit to UNB
Author: Fredericton Arts
Posted on Feb 8, 2016
Category: Other , Spotlight , Research , Arts , News
Derek Johnston, a Fredrik and Catherine Eaton Visitorship Fellow from Queen's University in Belfast (QUB), Northern Ireland spent some time visiting UNB and Toronto. While in Canada, Dr. Johnston is continuing his research on seasonal broadcasting of horror and supernatural genres. Read this brief interview to learn more about the specifics Dr. Johnston's research and visit to UNB Fredericton.
What kind of research were you doing in New Brunswick and Canada?
In New Brunswick I was mostly concerned with delivering talks based on my research into seasonal horror broadcasting and seasonal horror traditions, and seeing how people responded to them. While the talks drew on material from my book on the subject, Haunted Seasons: Television Ghost Stories for Christmas and Horror for Halloween, with this sort of research the process never really ends. It is always interesting to hear how people respond to the research, and the examples and ideas that they provide which can lead on to new developments. I was able to spend some time in the library at Fredericton, drawing on books there that I did not have access to back in Belfast.

In Toronto, I spent a couple of days at the CBC Archives, finding out what sort of materials they carry; that was largely part of scoping out a potential future research project on the links between British and Canadian media. While there are many links between the two countries, in terms of newspapers, broadcast media, films and so on, what is usually written about is the relationship between the UK and the US, or between Canada and the US. So there is definitely scope there for further research, and now I have an idea of where the CBC Archives could be used. Discussions with archivists there and with staff from UNB have also suggested to me a number of other archives and connections that could be developed or used if this research goes ahead.
How was your stay been at the University of New Brunswick?
My stay in New Brunswick was very enjoyable, although my time in Saint John was mostly spent in my hotel room, marking. This was partly because a winter storm closed in... But I have met interesting and interested people, and my talks went down well, and I have had discussions that I hope will lead on to other things.
What first sparked your interest in horror & supernatural broadcasting?
British children's programming of the late 1970s / early 1980s, that I grew up with. There's a strong tradition of 'kitchen sink' realism in British television drama, even for children, but budgets also often meant that children's drama in particular was shot on sets. This, combined with shooting  on a combination of video tape for studio and 16mm film for exterior, meant that there was often a slightly uncanny feel to even non-supernatural programmes, a sense of ghosts in the grain, of things being not quite 'right'. This worked particularly well for the supernatural children's programmes of the time, which engaged with ideas of Britain's pagan and mystical past on a regular basis. And, of course, I was introduced to Doctor Who at the height of its Hammer-influenced Gothic period.
Have you noticed US or UK holiday traditions other than Halloween and Christmas that are "horrified"?
Not as far as broadcasting is concerned. If you look at rural traditions, there are traces of horror that can be found in a lot of festivals which relate to the harvest, crops and the turn of the year, simply from what was probably a constant fear in agricultural communities about how they would cope if the harvest failed, if the winter was too long, if the summer was too wet, if stock animals were diseased, and so on. These fears have been picked up on and exaggerated for folk horror texts, such as the film The Wicker Man or the BBC play Robin Redbreast. Both of those were clever enough to suggest that the horrific practices used by communities in a magical, ritual attempt to combat their fears were at least partly modern conceptions of what the past must have been like, rather than actual pagan survivals.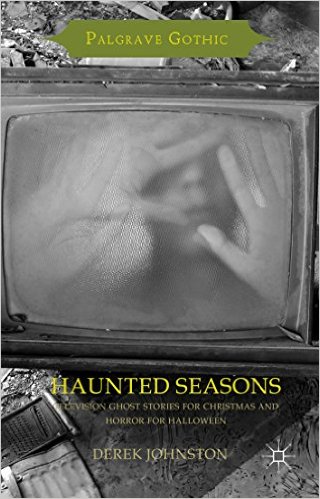 During your talk at UNB, you mentioned that in the early stages of TV broadcasting, American Halloween programs would appear in the UK around Christmas time due to the delay in transmission overseas. Is this the main reason why the UK has a high number of horror themed Christmas programs or is there more to it?
In terms of simple counting, it certainly added to the numbers, but it was also appropriate because there was an existing tradition of horror themed Christmas programmes. These were usually ghost stories, building on the tradition (which really does appear to be ancient in origin) of telling supernatural tales around the winter fire. But British radio was broadcasting Christmas ghost stories at least as early as 1925, and British television had Christmas ghost stories as far back as 1937, well before any US imports. And that's not counting adaptations of A Christmas Carol, which were present even earlier!
Do you think UK and US populations broadcasting audiences are more fascinated or afraid of the supernatural?
I think fascinated more than actually afraid. I do think that UK programming tends to go more for what the ghost story writer and antiquarian M.R.James called 'a pleasing terror', which is that it is more prepared to actually try to frighten, but in a way that is at least partly expected and so comforting. If it's Christmas, and you're watching a programme in which the characters are in a spooky old house, there had better be something scary, or it would be disappointing! US network programming is far less likely to go or the genuine scare or unsettling feeling, because the drive to keep the audience happy and watching is stronger. Which is not to say that there are not some truly unsettling or scary programmes in US network history, and subscription channels are a different matter altogether
Do you think mass-broadcasting influences our apprehension and/or fascination with themes of horror and the supernatural?
I think that it can, particularly if, like me, you pick up on it in childhood. But it depends on how it is treated, and how people react to it and make use of it in their own lives. There are plenty of people of my age who are fascinated with the supernatural because of the programming that we saw when young. There are arguably more people who have not picked up that fascination. It is also, of course, part of the wider culture and the way that deals with the supernatural and what it deems horrific, and what kind of horror is deemed appropriate or tasteful. There are some people who object to there being any kind of depiction of horror, either because they don't think that people should have the possibility of encountering a depiction of horror, or because they think it is actively evil. Depending on how loud their voices are at any time, that can have a stronger effect on the position of horror in society than simply broadcasting, in part because the strength of those voices will influence broadcasting. So, depending on the wider culture, the supernatural is either part of the culture or is something to be denied, and horror is either something that is part of the culture, or something that is part of a subculture, something rebellious.
Are you planning on expanding your research?
I am currently working on a number of pieces related to this research, and to the wider field of the television ghost story. I am also editing a special issue of the Journal of Popular Television about seasonal television, with a follow-on dossier specifically on Christmas television. What the research really needs, though, is more people contributing, in part to extend the geographical reach, and also to expand the ideas into other genres, and other seasons. So I am hoping to receive funding to establish a research network on seasonal broadcasting, and to run a conference or two, and other events, to spread the idea and to share what people find.

Interview conducted by Camille Coulombe