Be a sponge and swallow your fear Memories of First Year Part 2
Author: Fredericton Arts
Posted on Aug 12, 2015
Category: Spotlight , Other , Arts , Opinion , Student , Faculty
Four weeks to go until...

...the first day of classes! Hard to believe it's only a month away. As we head towards Orientation Week, time travel back to 1998 with us. It was a strange time where you were required to stand in line to register for courses and penny candies were still a thing (pennies were still a thing!!!). Cindy Brown sheds some light on being a first-year then: the hit songs (get ready for some 90s classics), cramming for an exam, being a sponge, and overcoming shyness.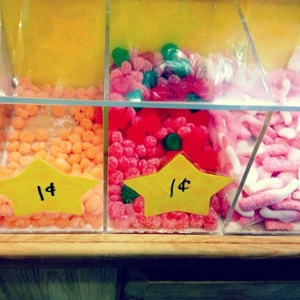 Cindy Brown
Arts Internship Coordinator, Arts 1000/1100 Instructor/Advisor, Gregg Centre Communications Manager and Publications Coordinator
Degrees: BA in History (UNB); MA History (UNB); PhD (Western)
First Year: 1998, UNB Fredericton

Cindy giving a lecture in Rome, Italy.
What song sends you back to your first experiences at university?
Cindy: "That's a tough question Tabatha, because I listen to all different types of music… but I remember in 1998 a lot of NSync and Backstreet Boys and 'groan'! That is such a groan, however that was the stuff that was playing, especially on campus and during the first week. I remember specifically listening to "Semi-Charmed Life [by Third Eye Blind]" and as soon as [asked that] I started singing that song. It was pretty cool. If I had to pick a theme song, and I don't know if this pertains exactly to first year but it's definitely from my undergraduate days… it's "Roxanne [by The Police]". So just from that you can see the wide range of music. I used to work at the Brunswickan I had my friend, Patryk, who was in class with me and he also worked at the Brunswickan with me and when we would do layout [for the paper] we would play 'Roxanne'."
What smell brings you back to your first week at university?
Cindy: "That's hard because it was such a long time ago, but I remember, because I'm from Amherst in Nova Scotia, I remember that I was so warm in Fredericton. I remember the smells in that first week from the FREX [Fredericton Exhibition now NB Exhibition]. That was what you did when you first came to UNB and you had that freedom."

 "The smell of freedom – deep fryer grease at FREX!"
Cindy: "Deep fryer grease and popcorn and the greasy smell of the rides, literally grease, like diesel."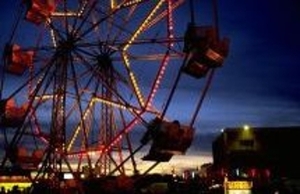 Cindy: "I hated residence food. I lived in McLeod House and we had our kitchen and cafeteria which was great because I didn't have to come down to McConnell. Doreen [Doreen from our Tilley Café] was working in our kitchen when I was there and Doreen took good care of me and would try to make me eat. I drank a lot of Pepsi, I'm talking like cases in a week, and Greco Pizza. And chips and candy. I remember going to the store and buying penny candies. I don't even know if they are penny candies anymore…There's no more pennies!"
Are there any particularly emotions you remember feeling during the first few weeks?
Cindy: "Yes, terror. I think that's one thing that sort of makes me who I am as an advisor now is because I remember being terrified… Everyone always warns you that university is so hard…It's not hard you just have to work consistently. And I came for the Arts and Sciences [program]…so I was taking Physics and Biology and History and all those other things that go into the Arts and Sciences program and it was hard, it was really hard. I remember cramming for a Biology exam all night once and I would never recommend that. That was my first experience with too much caffeine. It was the worst thing I could have ever done because I stayed up all night cramming for my Biology exam and I went to write it and I thought I was going to die, I was shaking, shaking so bad, and I felt awful and sick…What was the question again? Emotion right… so terror and excitement. I was so excited to come and learn, to be away, but I was also very terrified because I am very terribly shy. I actually didn't go to things in first year and the first week because I was terrified. I just stayed in my room and hung out with who I knew because I had some friends here but… I missed out on things and if I can tell [new] students anything it's this: swallow your fear and go anyway…It's completely new, everything is new, and everything looks so scary. And Fredericton looked so big, which is so funny."
Are there any particularly significant people who stick out from that time? And what makes them memorable?
Cindy: "Immediately I'd have to say Peter Kent because Peter Kent was my Arts 1000 tutorial leader and he scared me too. He was the distinguished gentleman professor who said "Okay, you are all going to be on the Dean's List this year." And I was like okay. And Patryk [who was in my classes]. We became friends. Peter is a neat example of someone I met because he's been involved in my academic career since. He was my Masters' supervisor and he was the reason I went to Rome for the first time in 2003. He has been an important part of my life. I think that's one of the coolest things about UNB. I was thinking about all these students I have mentored and who are now leaving and it makes me tear up... but people like Peter Kent and Wayne Donaldson. They are the types of people who make me want to be a significant mentor and put the time in to do it. So I would have to say Peter and then Doreen. Doreen has been in my life now for 16 years. I told her last September it was our 16th anniversary. I've learned so much from her too because she's always kind and she's always friendly and for me being so shy, being shy prevented me from being that way because I would completely close myself off and protect myself but Doreen didn't care. She was so down to earth and important."
What about positive experiences? And how did you overcome obstacles?
Cindy: "I think just the moment I realized that I didn't feel so much like a fish out of water… feeling a little more comfortable. It's such a long time ago and I've changed so much. I guess [also] when I started establishing friends outside of my normal [group]…I think that's one of those things in my life that was very important to experience – making new friends and forging new connections… There are people from my first year who I am still friends with."
[Also] in year one Sean Cullen came [a comedian from Corky and the Juice Pigs]. I was sitting in the front row and me terribly shy… he looked at me and was like "What program are you in?" and I said "Arts and Sciences!" and so he sang a song about me about how I couldn't make up my mind between the Arts and Sciences. He sang a song about monkeys doing experiments and writing books and it was hilarious. That was a pretty neat experience."
[On dealing with obstacles and stress.] "I think I just pushed through them. Because I was so shy and crippled by my shyness, I just kind of plowed through them and didn't let them hold me back and I didn't reach out for help which is the sad thing. I didn't really start reaching out for help until about ten years ago, maybe twelve. I kind of just put my head down and I was drawn to what seemed to work for me and I sort of just left what didn't. Reflecting back on that I was so fortunate in the connections I made here at UNB, through the Brunswickan, because my TA in year one for history was the news editor for the Brunswickan. I was lucky enough to be there and have things fall the way they should fall. I'm not saying I did the right thing."
Did you have a favourite and/or least favourite subject?
Cindy: "History. I came to [UNB] to do Law School. I was going to do Arts and Sciences and then go to Law School and do Environmental Law or something like that. That was sort of the idea because I had done my co-op with Legal Aid in Amherst in high school so I was convinced. And Philosophy, Philosophy and History…I was drawn into this different way of doing things at UNB, at the university level, as opposed to high school and I thought that was the most appealing thing. I always tell my students you may have a plan now but keep your mind open. I don't think there was anything I liked least because I was interested in everything but I didn't do as well in the courses that were multiple choice so Biology. I was really interested in Biology but I didn't do very well in Biology. I was kind of like a sponge but I wasn't enough of a sponge I wish I had been more of a sponge. Reflecting back on it now I wish I had spent more time soaking up more of the different ways of thinking, of the different information, and the different chronology. I mean, we can regret that all of our lives. "
"Be spongy!"
Did you have a favourite place to be on campus? Off-campus?
Cindy: "I loved to be on the 4th floor of the library [HIL] in the Beaverbook Room, the Red Room. I wouldn't necessarily hide but you can be quiet there, no one would bother you, no one would find you, and it was comfortable and almost humbling to be among all those great books. I love books. If I could be around books all the time I would be happy. Off campus? I like to ride my bike a lot and I used to like riding my bike along the river because the river is just one of the most beautiful things about Fredericton. I really appreciate that about Fredericton although I missed and I still miss the ocean."
What has changed since then? Or stayed the same?
Cindy: "I wish I could remember the system we had for registering for courses… actually I do! We had to go stand in line. Ridiculous. And stand in lines to pay fees and it was all at the South Gym and there was a bunch of different stations and you had to stand in line to pay, and you had to stand in line to do your card, and you had to stand in line to do this…It's so much better now. Students of today should be so thankful!" [I went out for lunch today] and I handed [the cashier] my debit card and it occurred to me there wasn't debit back then. There were debit cards, there were ATMs and stuff like that but you had to have cash everywhere you went! AND in 1998 DVDs were just coming out! I had a new computer so I could play them on my computer but nobody rented them except for Jumbo Video and we asked Blockbuster if they were going to start renting them and they said 'No, the future's not DVDs. And MP3s were newish and it was [the beginning] of the downloading/pirating craze."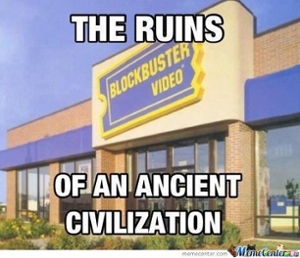 Any other significant faculty you might want to mention?
Cindy: "Sean Kennedy and Gary Waite. Sean Kennedy was brand new [when I came to UNB and Gary Waite] was my first history teacher, he taught medieval history…Sean Kennedy and Peter Kent, [they] taught the type of history I wanted to do...I actually [later] took a seminar with them together and it was great because they would argue with one another in the classroom. It's such a great example to see that debate happen between academics. It was really cool. The history department in general… I did my doctorate at Western and the history department there was pretty good too and there were some great people there but it doesn't have the same feeling as the history department here at UNB. UNB's history department is small, everybody gets along, everybody eats lunch together, and you just feel like you belong there as a student, you feel comfortable there."
-Interview by Tabatha Armstrong