The Crucial Ingredient for Success That's Easy to Miss in the World of Design and Technology
Author: Engineering Alumni Office
Posted on Dec 12, 2017
Category:
By Dr. Dhirendra Shukla, Chair of the J. Herbert Smith Centre for Technology Management & Entrepreneurship at the University of New Brunswick.
Students in the Master of Technology Management and Entrepreneurship program at UNB come to the classroom each year with one burning question:  "What does it take to be successful in the tech space?"
I don't give them the usual rundown of everything they'll need... business training, a network, capital… at least not in the beginning.  I tell them that what they need is quiet space to think and let creativity and innovation flourish.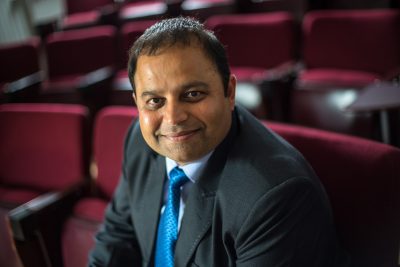 Joy Cummings Photo UNB
I've studied and worked in fast-paced, innovative and exciting places, from King's College London to Nortel in Ottawa and four continents and numerous other cities in between. Yet I've learned since moving to the quiet and humble province of New Brunswick in 2009 that our environment and how we use it is a crucial ingredient for success.  The design and technology industry tends to be rapid-fire and bustling with all kinds of new information and ideas on a daily and even hourly basis. It's exciting, but it's an environment that can also potentially threaten the viability of success. It's tempting to dismiss yesterday's great idea in favour of today's. If one isn't conscious of this, it can result in fewer concepts that are critically thought-out and materialized.
New Brunswick, in addition to being a small enough community to easily connect with others and collaborate, affords a quiet atmosphere to think deeply and connect the dots in your own mind – a critical step for entrepreneurs and entrepreneurial thinkers who want to bring interesting and novel ideas to life. The province is a wellspring that operates at a more peaceful pace than many other cities or regions. It offers anyone living here the ability to think, articulate and make magic happen. Creativity can flourish here, and because of a strong, encouraging and closely connected network of support, creative passion projects can come alive here as well.
And they have.
In addition to the giant family-run companies that come to mind when you think of New Brunswick business – McCain Foods, Irving Oil, Ganong Chocolates, Moosehead Breweries to name a few – tech successes like Q1Labs, Radian 6, Resson , HotSpot, Green Imaging Technologies, SimpTek and Stash Energy are New Brunswick-borne successful ventures. These kinds of enterprises are aplenty here in the province, and the innovative ideas that are brought to life by individuals working in all kinds of industries here astound me on a daily basis.
In fact, New Brunswick has been called Canada's next startup hub, and the University of New Brunswick has earned the title as Canada's most entrepreneurial university. It's not a coincidence that the province and university that's small enough to encourage big thinking but also enable quick connections and resourcing have earned these titles.
Consider big thinkers like Newton, who made his brilliant epiphany after an apple falling on his head, as the story goes. Was it really the apple or was it the beautiful quiet orchard that Newton used as his place to think deeply?
And so I tell my students– both those who are in the process of bringing startups to life and those who are studying to become leaders in engineering and go on to drive corporate innovation - to take time to think, encourage flow, let big ideas take shape and critically assess them, and then connect with a network that can help bring them to life.
As part of the one-year Master of Technology Management and Entrepreneurship program here at UNB, students learn how to hone in on the right idea, do the research necessary, start a company, get it funded, and market their product. We teach them how to be a leader in the tech space and how to accelerate innovation in big companies or small ones. And we provide access to a tight web of mentors, to available capital and to accelerator programs in the region. Our students inevitably build either successful careers in innovative companies or launch their own businesses; either way they ultimately change society for the better.
It all begins with a quiet place to contemplate. It really is the key to victory.  
UNB is now accepting applications for the 1-year Master of Entrepreneurship and Technology program beginning in September 2018. Learn more. The world is waiting for your big ideas to come to life.