Felipe Chibante Wants to Change the World Using Nano-Enabled Clean Energy
Author: Engineering Alumni Office
Posted on Oct 24, 2017
Category: Research Spotlight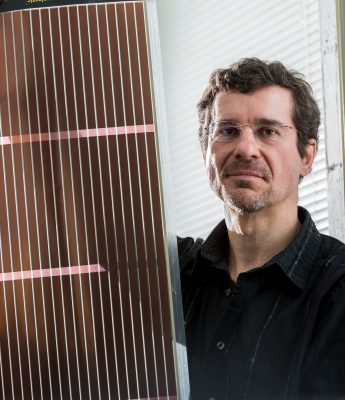 Dr. Felipe Chibante sits in his office and lab space at the University of New Brunswick with impressive credentials behind him. In addition to holding the Dr. Richard J. Currie Chair in Nanotechnology, receiving the NBIF R3 Innovation Award of Excellence and other numerous awards for his work, Chibante earned his PhD at Rice University in Houston under the tutelage of the late Professor Richard Smalley, the 'father of nanotechnology' who won the Nobel Prize in Chemistry in 1996 for his work in producing Carbon 60.
Carbon 60, the soccer ball-shaped molecule that Professor Smalley discovered in Houston, was the first fullerene (a new man-made carbon molecule unlike those already known such as graphite and diamond) to be discovered. Smalley and his students, including Chibante, manipulated carbon atoms for the first time; by changing the way atoms came together they were able to create something completely different. Carbon 60 is prized for its optical, electrical and thermal characteristics, and is used in everything from engine treatments to sensors to cosmetics.
The work Chibante did with Professor Smalley to produce Carbon 60 in larger quantities set the course for his life: to solve the world's energy crisis through nano-enabled clean energy.
But Chibante didn't feel he needed to do that from Houston, the primary hub for molecular nanotechnology research in North America; he wanted to do it in his hometown of Fredericton, New Brunswick. While working on a NASA project in Texas in 2005, he required the purchase of specialized equipment that he was able to find, of all places, in Fredericton from Mathis Instruments. He made the purchase but realized that his work can be done from anywhere, and so he returned to the province with ideas brewing after 15 years of working in tech start-ups that applied nanotechnology to industrial problems. He created NanoNB, a local start-up for nano-materials and applications, and soon joined researchers he'd been collaborating with at UNB in the Chemical Engineering department (he also works closely with Mechanical, Physics and Biomed). "New Brunswick is an optimal spot to carry out research and support new product development – we can move quickly here, work together, and get results because we are empowered to make it happen," he says. "New Brunswick is becoming another major hub for nanotech research in the world."
With most of his focus on Carbon 60, one of the first problems he tackled was getting the extremely expensive cost of producing it down to a reasonable level.  So he and his team, including research associates, grad students, and post-doctoral students, recently completed a project funded by a federal Atlantic Innovation Fund and the New Brunswick Innovation Foundation to scale a new process. They built a device that creates a reaction that reaches a temperature of approximately 5,000 degrees Celsius, approaching the sun's surface temperature. By creating this energy more efficiently and affordably - and with less pollution - he predicts a significant price drop.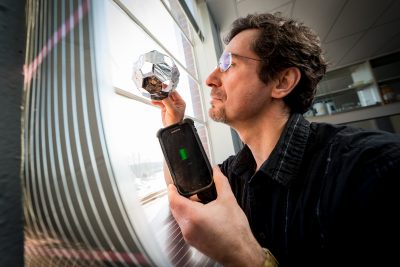 Chibante believes that the flexible, thin-film, carbon-based solar cells now created could have expanded applications, from creating photovoltaic threads you can wear to power your tech to prosthetic gloves that better measure pressure.  His main interest now, however, is to apply the technology to what he sees as the world's biggest need: clean energy.
The nano guru wants to pick up the baton from Professor Smalley to solve the problem of supplying the world with enough energy - without compromising the planet – using nanotech. "Almost all of our problems stem from energy: food supply, pollution, water…if we can solve our energy problem with carbon nanotechnology, we can save the world," he excitedly exclaims.
But he doesn't plan to do it solely from his lab. He feels strongly that teaching science and engineering, and encouraging continued learning beyond the classroom, is an essential part of his commitment to changing the world. "We need many people working together on this today and in the future, and I want to teach students that motivation and perseverance are lifelong skills needed to accomplish our goals. We all need to continuously keep learning and working collaboratively."
Dr. Chibante has tremendous energy himself; he has a lot of irons in the fire and is passionate about them all. He also has a positive outlook on achieving his primary goal. He believes the time is right for a concerted effort on the societal mission to create affordable, abundant clean energy.  "We have an amazing chance to help change our global situation from right here in New Brunswick. We're on the verge of great things."