Leisure Learning Newsletter
Author: Alison Howells
Posted on May 27, 2022
Category: Design Works Camps , UNB Art Centre , Leisure Learning

---
 "Moons and Junes and Ferris Wheels..." - Joni Mitchell



Speaking of moons—there's much to see in our night sky in June. According to Wikipedia, there are a number of meteor showers in June. The Arietids meteor showers take place May 22-July 2 each year, and peaks on June 7th; the Beta Taurids happen June 5-July 18; and the June Bootids are roughly between June 26 and July 2 each year.
June also marks the beginning of the astronomical summer (Summer Solstice on June 21st) in the Northern Hemisphere, the day with the most daylight hours when the sun is at its most northerly point in Earth's sky. As well, June 1st marks the beginning of the meteorological summer.
Summer has been slow to start, but it is now upon us! While key summertime words include relax and enjoy, sometimes it's great to make a list—so you don't miss a thing!
Here are some great summer activities to choose compiled from the feel-good website of Mrs. Field's Cookies:
Swim. Poolside, lakeside, beachside—try them all.
Road trip. Don't forget to stop at roadside stands along the way.
Outdoor concert. Live music doesn't sound any better than it does outside on a summer evening beneath the stars.
Hike. Enjoy the sweeping views of lush summer valleys.
Barbecue. There's nothing better than eating outside!
Amusement park. Bring on the roller coasters, cotton candy, and corn dogs.
Picnic. Find a gorgeous leafy tree, a secluded corner of a park, or a smooth slab of rock overlooking the sea, and spread out your blanket.
Homemade ice cream. A tradition that screams summer!
Campfire. Sitting around a campfire, even if it's built in a backyard pit, is a summer must. Just add marshmallows!
Summer reading. Need we say more?


Leisure Learning


What's on your summer checklist? Why not add a fun and creative UNB Leisure Learning course or two? There's so much to choose from, both in-person and online.
Experience the joys of painting with the in-person course Watercolour Journals (Saturdays, June 4-25) or add to your culinary skills with the new workshop Kombucha for Beginners (Sunday, June 5). For online courses, there's Anatomy & Figure Drawing for Beginners (June 15-July 20) and One Stitch at a Time Part 1 and One Stitch at a Time Part 2.
To learn more about "One Stitch at a Time," meet instructor Tina Sharapova:
For both beginner and established writers, consider workshops and courses such as the new workshop, Writing a Best Seller (June 4), Punctuating Dialogue in Fiction (June 4), or Self-Publishing & Marketing (June 25).
Meet Terry Armstrong, instructor of "Writing a Best Seller":
Whatever you're interested in, there's a Leisure Learning course for you!


UNB Design Works Summer Camps (Ages 6-12)

Camps run from June 27 to Sept. 2, 2022!

Calling all Jr. Master Chefs, mini-photographers, budding game designers, beginner artists, and even aspiring wizards, don't miss this summer's fantastic UNB Design Works camps for kids ages 6 to 12. The fun begins June 27 and runs until Sept. 2, 2022.
Taught by talented instructors, here's a great opportunity to be creative, make friends, have fun and experience an awesome range of activities.
Take a look at some of our camps in action: Photography Camp (Video) | Art Camp (Video)
Some camps are selling out but there's still lots of room for YOU. Sign up for our Design Works Camps today!


UNB Art Centre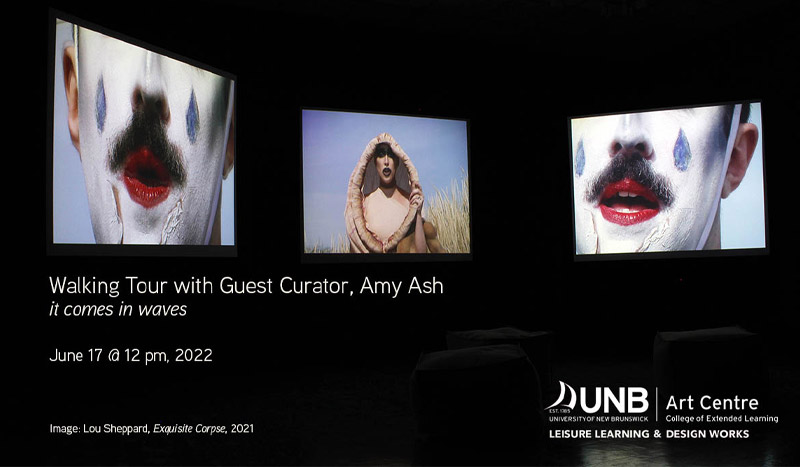 The UNB Art Centre invites you to join us for a walking tour of the exhibition it comes in waves, with curator Amy Ash, on June 17 at noon.
it comes in waves is a group exhibition that feels, seeks out, and listens to the resonance of absence and features the work of K.C. Wilcox, Adriana Kuiper and Ryan Suter, Lou Sheppard, Chantal Khoury, Emily Critch and Florence Yee.
it comes in waves will remain open until June 17 at 4 p.m.
The UNB Art Centre is located at Memorial Hall, 9 Bailey Drive, University of New Brunswick, Fredericton. The galleries are open 9 am - 4 pm weekdays and during special events. Admission is free to members of the public.
"Kindness is the language that the deaf can hear and the blind can see." - Mark Twain

@UNBArtCentre
unb.art.centre
UNB Art Centre
go.unb.ca/leisure-learning | 506 453-4646 | pce@unb.ca