Nackawic honor roll student athlete commits to Seawolves
Author: S. Anctil
Posted on Jun 14, 2022
Category: Varsity Sports , ACAA , Volleyball
Sophia Saad has officially signed with the Seawolves Women's Volleyball team for the 2022-23 varsity season.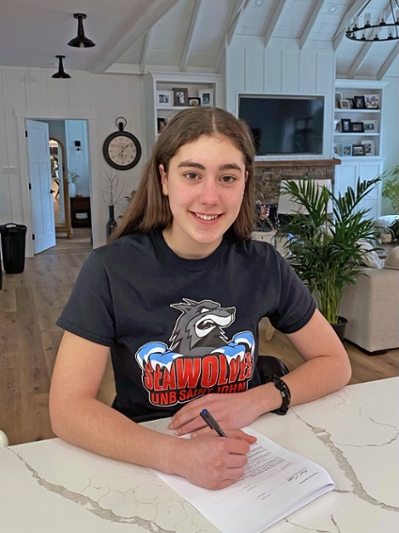 Sophia is part of the graduating class of 2022 from Nackawic High school. She has been on the principal's honor roll, maintaining an average above 90%, all through high school. Sophia's grades are incredible but so is her athleticism; she is a multi-sport athlete (soccer and basketball) but began playing volleyball at the age of six. Sophia's schedule in high school was remarkably busy but she still found the time for plenty of volunteer work. Her volunteer experiences include student leadership, best buddies, unified basketball, and prom committee. Sophia has an impressive volleyball resume, which includes the Reds Volleyball Club (2018-2022), Volleyball Canada Nationals (2019), Team New Brunswick (2018,2019), Won 18U Provincials (2022), and an invite to try out for Team NB at the 2022 Canada Games.
    Sophia loves being able showcase her competitiveness and passion on the volleyball court. She feels that UNB Saint John will let her grow as a player and that she will be able to make long lasting relationships with her new teammates.
"Volleyball has always kept me grounded and provided me with a healthy supportive environment. "
    As Sophia moves into this new chapter as a student athlete, her goals are to work hard and give 110%. She also wants to grow as a player with the help of her new head coach, Colin Chambers, and the help of her new teammates. On the academic sides of things, Sophia chose UNB Saint John as it is known to have a great science program with smaller class sizes. UNB Saint John also allows Sophia to be closer to home and close to her role models who are her parents. In the fall, Sophia will be starting her Bachelor of Science undergrad in hopes to pursue a career in medicine.
     Sophia was discovered while she was competing with the Reds Club team in the U18 Provincials in December. Her coach at the time, Geoff Mabey, introduced her to the Seawolves Head Coach, Colin Chambers following a tournament. A short time after, she reached out to learn more about the women's volleyball program, they crossed paths a few more times at some tournaments and revisited the conversation which led to Sophia's decision to join the Seawolves. From Coach Chambers' perspective, Sophia is a responsible player on the court who works hard to close outside blocks.
"Offensively, she makes good decisions and finds holes in the defense. We will aim to help her become more aggressive with these shots to unlock her full potential."
     Middle has been the focus of the recruiting efforts in the offseason and adding Sophia to the roster will provide critical depth at a key position on the court. Her emphasis on hard work and building a positive team dynamic will inspire her teammates to be at their best on the court, in the classroom, and beyond.
Welcome to the Seawolves Family Sophia!