Wolfpack – Timberwolves - Seawolves - Huisman commits to Men's Volleyball program
Author: S. Guimond
Posted on May 6, 2022
Category: ACAA , Volleyball , Varsity Sports
Jacob Huisman has officially signed with the UNB Saint John Seawolves men's volleyball team for the 2022-23 varsity season.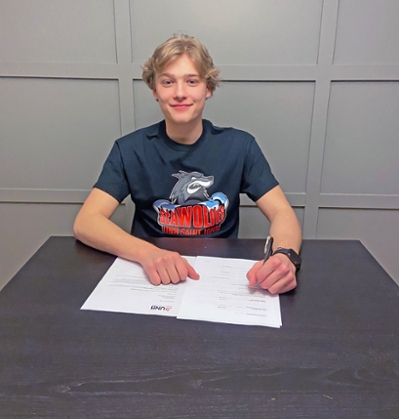 The Hampton High school graduate may have started out as a hockey player, but volleyball quickly drew his attention. Jacob has played hockey since the age of five but after playing Bantam AAA he had to decide which sport he wanted to focus on. He began playing volleyball in grade six and since then has immersed himself in the sport. He came up through UNB Saint John's youth developmental program, Wolfpack Volleyball, and later moved on to the Timberwolves Club program and he was the starting setter for the Hampton Huskies. Jacob has been captain for multiple teams, where he has been able to put his leadership skills into action. Academics are extremely important to Jacob and the discipline he has learned through sports has easily transferred to his studies.
Jacob's passion for volleyball is huge, he loves that it incorporates teamwork, dedication, and a mutual respect among teammates to move towards success. Since he was young the game captivated him which pushed him to learn more and advance his skills. He is looking forward to collaborating with the coaches at UNB Saint John as he feels they will be best suited to help him improve his abilities. Jacob is eager to continue his volleyball career and will take in everything he can to be able to contribute to the squad. The goal: team success in the ACAA.
It turns out that Jacob's volleyball experience has been a family affair from the time he started playing. Jacob's father has been his coach since grade six but of course gives credit to each coach he has had along the way. In addition to his father/coach, Jacob's mom and brother have always been a source of inspiration and support for him.
"It is a game of momentum that requires mental toughness, skill, and the ability to work with your teams.
Jacob is originally from Calgary but moved to the east coast at an early age. Saint John has always been home to him which made his decision of choosing UNB Saint John easy. Once Jacob arrives in the fall, he will be taking Computer Science in hopes to have a career in computer development.
Head Coach of the Seawolves, Dino Karatzios, knows Jacob from both the Wolfpack and Timberwolves programs. He has seen him play a multitude of times including his last two years of high school as the starting setter. Coach Karatzios' first impression of Jacob was that he is strong, athletic, and versatile. The six-foot three lefty played middle for his club team, but he really excelled when moved into the setter's position in high school. Coach Karatzios learned how respectful and polite Jacob was off the court but notes that he does not lack intensity on the court.
"He has raw talent, great athletic ability, and tons of potential. He works hard, has a great personality and is a great fit for our team"
Jacob is expected to be a crucial member of the team because of his quickness on the floor and good hands. In the opinion of Coach Karatzios, Jacob will contribute to the team culture in a big way.
Welcome to the Seawolves Family Jacob!