All Star MVP from Dieppe commits to Seawolves Volleyball
Author: S. Guimond
Posted on May 4, 2022
Category: Volleyball , ACAA , Varsity Sports
Dominique Gendron has officially signed with the Seawolves women's volleyball team for the 2022-23 varsity season.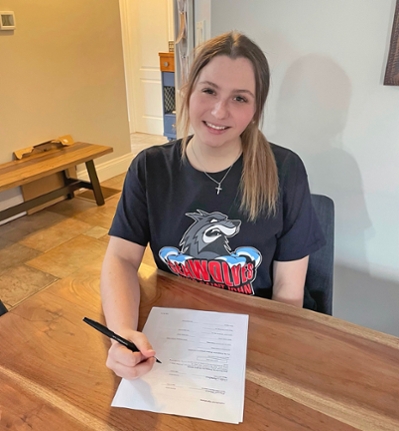 The Ecole Mathieu-Martin graduate will be coming to us from Dieppe, New Brunswick. Dominique has not only been a fantastic student, but her athletic career is pretty impressive too. She began playing volleyball in the third grade and moved on to play in middle school where she was awarded MVP three years in a row. Dominique maintained her focus in volleyball and played with the Fuzion high performance club (2018-2020), Team New Brunswick (2019-2022), All Star VNB age class (2021), Canada Games training team (2022) and she will be trying out for Team NB for the 2022 Canada Games. She has received awards including MVP of Eastern Elites with Team NB (2019), MVP of Volleyball New Brunswick age class tournament (2018, 2019). In addition to her accomplishments as an athlete, Dominique became a volleyball official in 2018. Much of Dominque's inspiration to better herself as an athlete comes from her biggest role model, her brother. She notes his raw talent and hardworking mindset and looks up to him because he never gives up.
"I love the competition and the adrenaline that comes with playing the sport. I love the social aspect of volleyball and how you create lifelong friendships with teammates."
Dominique will be taking the Bachelor of Arts program once she arrives in the fall. She chose UNB Saint John because it is close to home, the campus community is very welcoming, and it has great programs. Her goals as a player for the upcoming season are to positively contribute to the team, on and off the court. She is elated to take her talents to the next level with the Seawolves squad.  
Head Coach of the Seawolves team, Colin Chambers, was contacted by Dominique back in the fall. She was also highly recommended to him by Cherie Schriver of Sportsmatch. Sportsmatch offers a combination of services to ensure university/college volleyball coaches notice athletes who are looking to play at the next level. Coach Chambers has had a great relationship with Sportsmatch in the past, because of this, he saw Dominique help her U18 team to a second-place finish in December.  
"Dominique generates tremendous top spin on her attacks, allowing her to be an offensive threat anywhere on the court. She also sees the court well and will place the ball when the situation calls for it."
On her club team, Dominique was a major contributor in serve receive as well as offensively. Her teammates clearly look to her as a leader. Her experience training with the Canada Games team has helped her prepare for the pressure of playing in the ACAA. Coach Chambers feels that Dominique will help to replace some of the offensive holes created through the loss of the departing seniors. He expects her to compete for a starting role as a left side or right side as soon as next season begins.
Welcome to the Seawolves Family Dominique!