West to East: Dickie Signs with Seawolves
Author: S. Guimond
Posted on May 7, 2020
Category: Varsity Sports , ACAA , Volleyball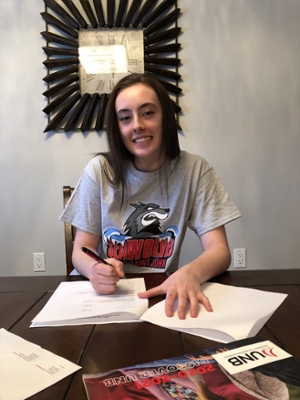 ---
Chandler Dickie is ready to make the move across the country to continue her education and play volleyball with the Seawolves. She will travel over 3000 kilometers from her hometown of Weyburn, SK and we are very excited to have her join our program.
Chandler will be graduating from the Weyburn Comprehensive School where she left her mark by receiving the Academic Award of Excellence. Chandler has enrolled in the Bachelor of Science program at UNB Saint John where she will move towards the field of Medical Health Sciences. She chose UNB Saint John because she wanted to continue her volleyball career at a school that offers a smaller, more focused community environment at a top ranked University. She is looking forward to traveling across the county to see what life is like on the east coast.
In addition to her academic aspirations, Chandler hopes to grow as an athlete both mentally and physically and contribute to team success as the Seawolves compete in the ACAA. Her focus will be to work hard on and off the court and add depth to the team.
Chandler was the starting left side hitter for the Weyburn Rush in the 2019 club season and had the opportunity to hit the court as libero. She also shared captain duties with a teammate. Chandler's 2019 senior girl's high school team showcased her as a starting left side hitter in addition to becoming well versed and skilled in other positions (right side, libero, and defensive specialist). This experience in several positions will be of great value to the Seawolves.
Chandler's athletic achievements also include a bronze medal at the 5A girl's high school provincials and 4th place in the 16U beach volleyball provincials in 2018. In 2017 she was named MVP for the WCS Freshman high school team and competed in the Saskatchewan summer games (2016) as a left side hitter where she helped lead her team to a gold medal. Chandler also likes Track and Field and competed in the high jump at the Saskatchewan Provincials. 
Chandler has gained so much over her years from playing volleyball and her abilities continue to flourish. She sees volleyball as an outlet to push her athletic limits as an individual but also to expand her positive growth mindset and be a contributing team member.
"The things I have learned from my passion for volleyball are also elements that I carry into my future".
A significant part of her growth can be attributed to the support of her parents who have had the biggest impact on her life. "They have taught me how to work through challenges while embracing change to become the best person I can be". Her parents have instilled the importance of positivity and solid work ethic which she will carry with her when she steps on the court as part of the Seawolves squad in the coming season.
Welcome to the Seawolves Family Chandler!!