UNB OCRC strengthens its research capacity
Author: UNB Newsroom
Posted on Mar 2, 2023
Category: UNB Fredericton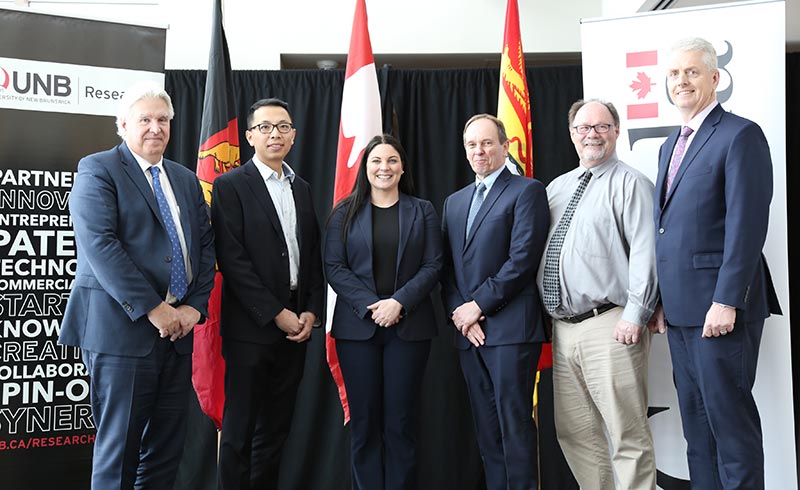 The Off-site Construction Research Centre (OCRC) at the University of New Brunswick (UNB) enters its next phase of expansion and welcomes funding support from the Atlantic Canada Opportunities Agency (ACOA), OSCO Construction Group (OSCO) and New Brunswick Innovation Fund (NBIF).
ACOA's investment of $1,324,579 makes this nearly $2.8 million project possible. The project leverages $306,720 through NBIF's research grant programs, $730,879 from OSCO's $2 million contribution to UNB in 2018, and UNB OCRC's contribution of $413,700.
This funding will allow the OCRC to build on its initial success in advancing research and innovation in off-site construction alternatives. It will support three main objectives for phase two of the OCRC's life: to continue expanding on its research team and infrastructure as well as national and international industry partnerships; to create a new building envelope testing facility to conduct research in and certify new building technologies, and to develop an off-site construction education and certificate program for industry practitioners.
The construction industry is currently suffering from an increased cost of materials and discrepancies in housing and labour demand and supply. On the contrary, off-site construction is proven to increase productivity and safety for construction workers. By reducing material waste, off-site construction supports the global need to construct energy-efficient structures, maximize labour supply and disrupt the market. This, along with technological advancements, is creating the perfect catalyst for further innovation in off-site construction.
The OCRC's new building envelope testing facility will enable the research and development of new products and materials and allow businesses to test building efficiency. This will also leverage a transition from on-site to off-site activities by bringing tasks (window installations, mechanical and plumbing runs, etc.) to an off-site factory.
The funding fuels OCRC's mission of accelerating construction innovation through improving and adopting off-site construction technologies and practices and reinforcing its vision of becoming the Canadian leader in off-site construction knowledge creation and mobilization.
Quotes
"The Government of Canada is committed to supporting innovation, building dynamic partnerships and developing new opportunities for industry growth. Projects like UNB Offsite's Construction Research Centre are advancing important research and technology development in this sector, as well as helping to grow a highly skilled and diverse construction workforce." - Jenica Atwin, Member of Parliament for Fredericton on behalf of the Honourable Ginette Petitpas Taylor, Minister of Official Languages and Minister responsible for ACOA
"Our support of OCRC is an excellent example of how applied R&D makes its way into our industries. The partnership with OSCO in helping to define industry problems, and opportunities, provides the ability to take on more projects, helps NB construction companies and helps train the next generation of highly qualified individuals with industry-relevant training. This will continue to foster our economic growth, a key strategy in NBIF's business model and the driving force behind our $ 300 thousand commitment to this partnership. We will continue working with UNB and OCRC to identify new collaborative applied research projects and opportunities to train the next generation of construction experts and engineers." - Jeff White, CEO, NBIF
"We're happy to have participated in the OCRC's growth since its inception. In this next evolutionary phase, we're confident that the OCRC's added research and development capability will not only benefit the construction industry as a whole; it will also increase participation by the private sector to do more building research. This will bring more investment to the province and make UNB a hub for off-site construction practices." - Mr. Hans O. Klohn, President, OSCO Construction Group
"The OCRC is leading the way in innovating with construction digital technologies and off-site and prefabricated construction. The funding from ACOA, OSCO Construction Group and NBIF will help widen our research focus areas by strengthening our team and building a unique research facility in Atlantic Canada." - Dr. Zhen Lei, OSCO Research Chair in Off-Site Construction and scientific director of the Off-site Construction Research Centre (OCRC) at UNB
Media contacts
Marisa Lancione
Media Relations Strategist
Office of Strategic Communications and Marketing, UNB
marisa.lancione@unb.ca 
Ann Kenney
Senior Communications Officer
Atlantic Canada Opportunities Agency (ACOA)
Ann.kenney@acoa-apeca.gc.ca