Lorenzo Society's Virtual Book Club to feature international bestselling author Daniel Kalla
Author: UNB Newsroom
Posted on Oct 13, 2021
Category: UNB Saint John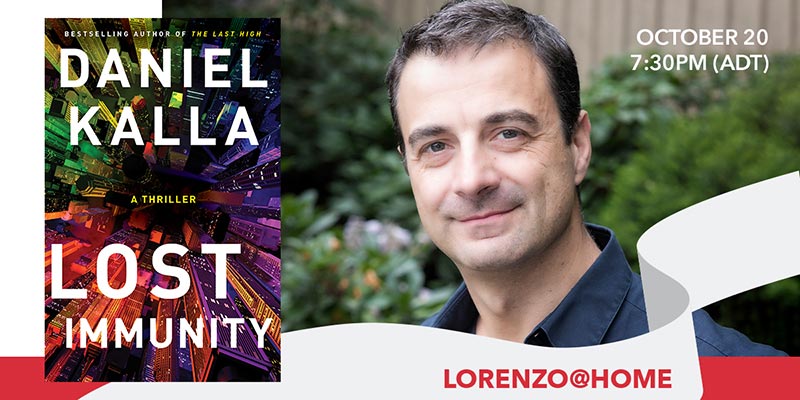 UNB Saint John's Lorenzo Virtual Book Club will feature international bestselling author Daniel Kalla reading from his latest novel, Lost Immunity, on Wednesday, Oct. 20, at 7:30 p.m.
Author Daniel Kalla produces engrossing novels with an intensity that matches the challenge of his other role as an emergency room physician in Vancouver. His medical thrillers focus on themes that lie at the heart of his professional life, delving into topics as diverse as pandemics, superbugs, addiction, DNA evidence and patient abuse. In his latest novel, Lost Immunity, Kalla tackles the issue of vaccine hesitancy and the potential impact on a global outbreak, applying his real-life experience working on the frontlines through the COVID pandemic.
The Lorenzo Virtual Book Club will be a moderated discussion and all are welcome to attend. The conversation will take place on Microsoft Teams and will later be featured in the Lorenzo by Night podcast. Important to note is that the registrants can be individuals, book clubs, or groups of friends who have bubbled. Also, participants can be from Saint John, other communities in New Brunswick, other parts of Canada and beyond. Participants must register in advance by emailing lorenzo@unb.ca.
The Lorenzo Reading Series acknowledges the support of the Canada Council for the Arts, The League of Canadian Poets, the New Brunswick Literary Promotion Program, UNB Saint John and its private reading sponsors.
SPOILER ALERT: A spoiler alert notice will be issued at the end of the first part of the discussion to inform participants that, during the section portion of the evening, they will hear plot twists and, potentially, the ending. The assumption is that every participant has read the book prior to the event.
For more information email lorenzo@unb.ca.