UNB celebrates Pride 2021
Author: UNB Newsroom
Posted on Aug 4, 2021
Category: UNB Saint John , UNB Fredericton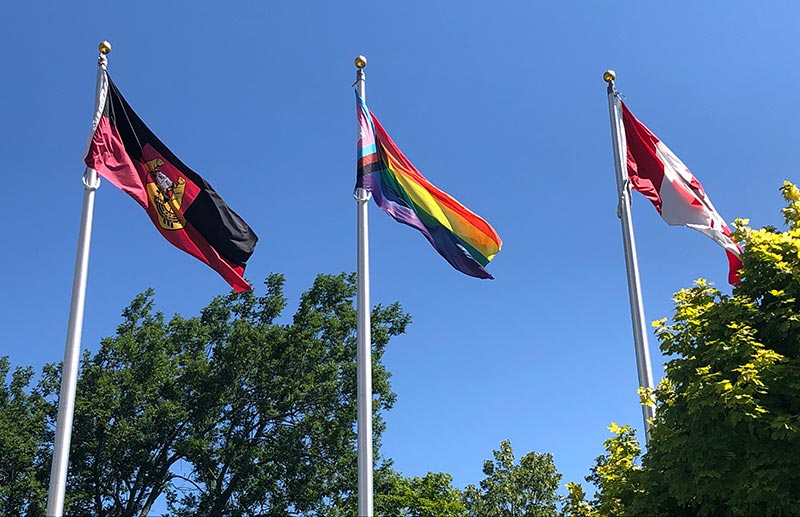 At UNB, we believe that Pride should be celebrated year-round. We encourage our UNB community to show their pride, allyship and to show up as their authentic selves. In recognition of this year's Pride celebrations, and in representing our aspirations as an institution, we have raised a Progress flag on both the Fredericton and Saint John campuses. With the raising of this flag, we reaffirm UNB's commitment to fostering equity, diversity and inclusion across our campuses and beyond. The Progress flag was chosen for its prioritization of Black, Indigenous, People of Colour (BIPOC) and transgender members of the 2SLGBTQIA+ community.
While UNB remains committed to providing welcoming and safer spaces to study and work, we know we still have a lot to do. Over the past year, we have worked on a number of important projects that will help us reach our equity goals. For example, we received and have released the results from our Equity, Diversity and Inclusion Survey conducted in 2020. The results of this survey provided us with a better understanding of the needs and experiences of UNB staff and faculty. Over the next several weeks, we will be releasing various educational and awareness-raising materials across both campuses supporting the policy, while highlighting its importance for trans and non-binary members of our community.
While Pride is an avenue in which to celebrate our differences, it is important to acknowledge the challenges that members of the 2SLGBTQIA+ community continue to face, including harassment, discrimination and microaggressions. Acknowledging these harsh realities enables our wider community to more fully appreciate the varied experiences and hurdles that members of this community navigate, while committing to our own individual learning and institutional change.
In New Brunswick, Pride celebrations are happening in individual cities at different times. Saint John celebrations are scheduled August 3 - 8 and, in Fredericton, from August 13 - 29. I encourage you all to participate in these celebrations.
We are proud of our collective diversity and are dedicated to doing better, together. I offer my best wishes to all for a Happy Pride Week - wherever, whenever and however you choose to celebrate this year.
With kind regards,
Paul J. Mazerolle
President and Vice-Chancellor