Two UNB associate professors battle for the Stanley Cup
Author: UNB Newsroom
Posted on Jul 2, 2021
Category: myUNB , UNB Fredericton
Who will win the Stanley Cup?
Two UNB faculty members are feeling the pressure, more than the rest of us, as we head into game three of the Stanley Cup with the Tampa Bay Lightning leading the series 2-0 over the Montreal Canadiens.
Both Dr. David Scott and Dr. Ryan Hamilton split their time between lecturing on campus and being special advisors to the two NHL teams now competing face-to-face in the biggest hockey playoff event in the world. 
Named as one of the most popular professors at UNB by Maclean's magazine, Dr. David Scott, an associate professor of sport psychology in the faculty of kinesiology at UNB, shares his knowledge and research as a consultant with many government departments and private companies in addition to being a sport psychology consultant with a number of sports teams and organizations. 
Among these accomplishments, Dr. Scott works as a mental skills consultant for the Montreal Canadiens.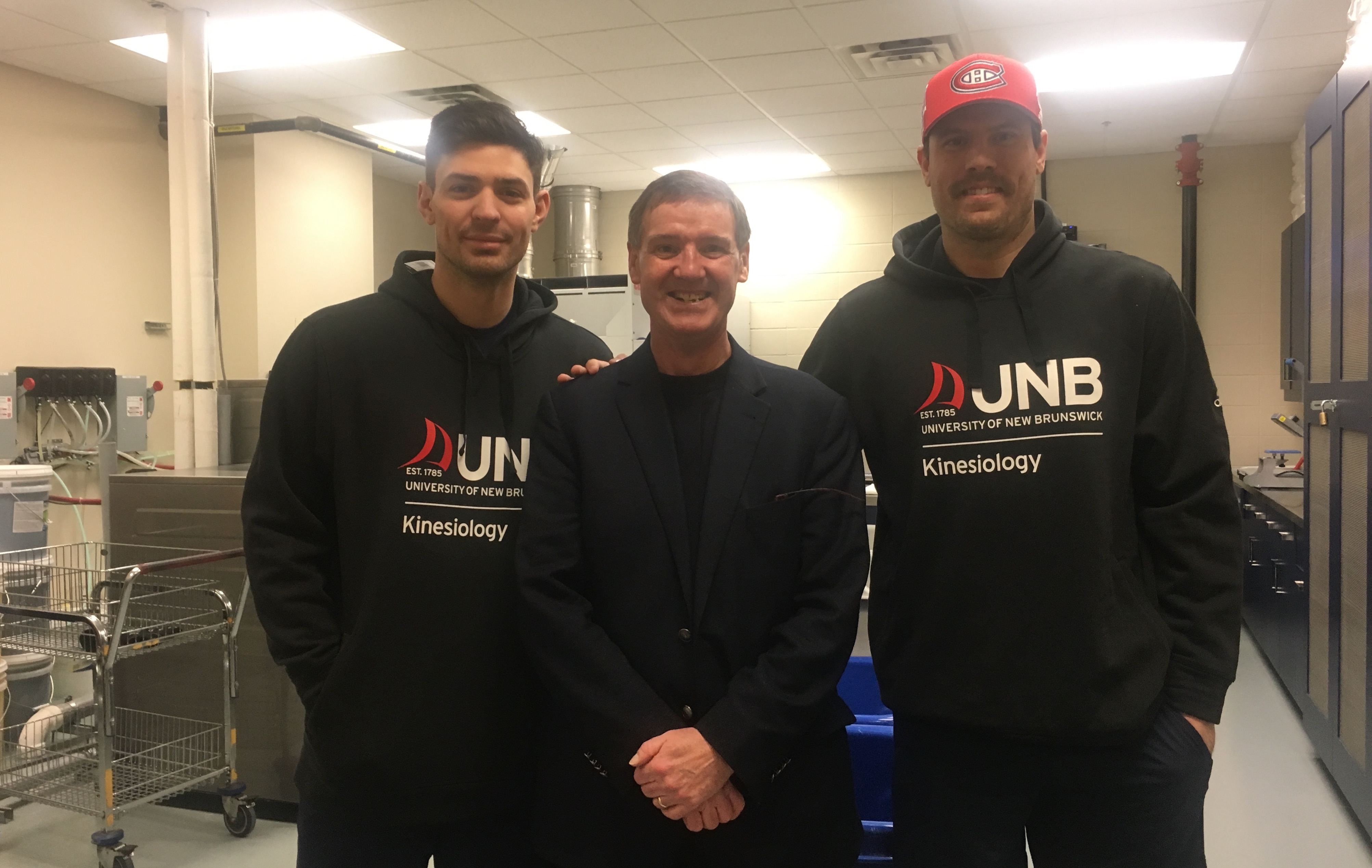 Photo caption: Dr. David Scott with Carey Price (left) and Shea Weber (right)
"I have only been able to do this because of the support I receive from the faculty of kinesiology and from our dean, Dr. Wayne Albert," says Dr. Scott. "In the kinesiology department, we take research knowledge and apply it in a real-world setting. It has been extremely rewarding to apply my research knowledge within the Canadiens' organization this season."
Dr. Ryan Hamilton, an associate professor in the department of psychology also doubles as a mental performance coach for the Tampa Bay Lightning.
Dr. Hamilton completed his undergraduate and graduate work at UNB, then went on to complete his master's degree in kinesiology and his Ph.D. in psychology with Dr. Scott.    
"Dr. Scott has been a tremendous mentor of mine," explains Dr. Ryan Hamilton. "I could not have had a better teacher and I look up to him as a professional in every way. In addition to his guidance, I am grateful for the academic and professional opportunities I've had at UNB that have put me in the position I'm in today."
Hamilton spends the bulk of his time teaching psychology at UNB Fredericton. His impressive resume includes working with Canada's junior men's hockey team and the UNB Reds as a sport psychology consultant. Dr Hamilton also works with the Canadian Sport Centre in New Brunswick offering mental performance coaching to elite athletes across Canada.  
Both Scott and Hamilton expressed a great amount of respect for one another as they work toward similar career paths.
"I look forward to debriefing with him when this is over," adds Dr. Hamilton. "Regardless of how this goes, I am sure we will be able to learn much from one another."
"We are both fortunate to consult with two of the best hockey teams in the world," says Dr. Scott. "It says something about our university that these two teams have turned to UNB for consulting advice."
Congratulations to both Dr. Hamilton and Dr. Scott on your success this far. UNB is rooting for you both.