Skill Up for Success program prepares international students for the Canadian workforce
Author: UNB Newsroom
Posted on Jul 9, 2021
Category: UNB Fredericton , UNB Saint John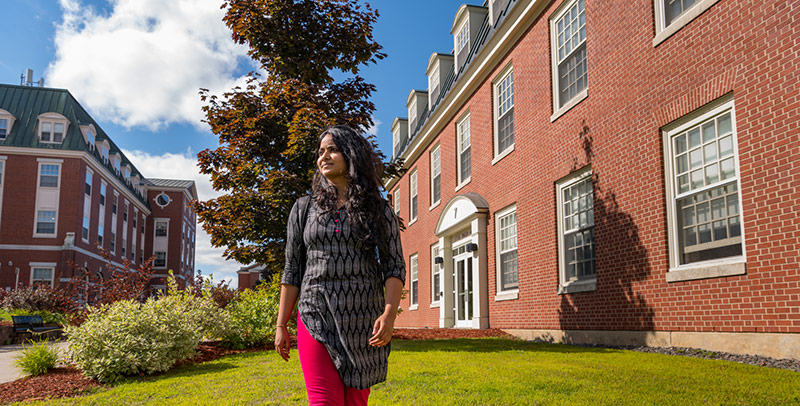 Since 1990, six million people have immigrated to Canada. Newcomers are critical to not only the economic and population growth in New Brunswick and across the country, but they also introduce diverse cultures and experiences into our communities.
The Office of Experiential Education at the University of New Brunswick (UNB) and the Saint John Newcomers Centre (SJNC) recognize the value newcomers bring to our communities. Together, UNB and the SJNC, developed a pilot training program called Skill Up for Success to help international students transition into the Canadian workforce.
The program was developed by SJNC managing director, Mohamed Bagha, UNB Saint John faculty of business professor, Rob Moir, and Samah El Maghlawy, a faculty of business instructor at UNB Saint John and business consultant at the SJNC.
"We wanted to offer international students a chance to learn skills so they can thrive in New Brunswick," says Mohamed Bagha. "This program sends a strong message to international students that our province welcomes them."
The training consists of seven virtual sessions teaching soft skills and lessons such as volunteer impact, basic technology skills, personal branding, social media management, effective communication, job market skills and immigration advice. Students all over the world attended the virtual sessions from countries like Egypt, China, India and Brazil.
"The pandemic showed us that we need to adapt and grow," says Mohamed. "Most companies may not be returning to an in-person environment. The Skill Up for Success program includes skills for remote or hybrid work that aligns with the future of work."
The program's first cohort of students graduated on June 16. Students received a course certificate and personalized business cards to help get them started in their career search.
"At UNB, we are able to provide international students with a complete set of skills to prepare them for the new online working environment," says faculty of business professor, Rob Moir. "Business communications is currently taught throughout various courses at UNB, but this training is meant to be culturally sensitive and much more useful for international students specifically."
Skill Up for Success is supported with funding from Future NB International, a new funding program specifically designed to help international and newcomer students access experiential learning opportunities.
Recognizing the unique barriers faced by international students, Future NB International prioritizes international student success and reflects a commitment from the Province of New Brunswick and New Brunswick's universities to ensure that international students thrive in our communities.
"We are so grateful we could offer this opportunity to UNB international students who were able to participate from all across the world," says Samah. "We hope to build on the success of the first cohort and continue offering this program to students."
Opportunities for newcomers settling in New Brunswick can be found at the Saint John Newcomers Centre. International students interested in learning more about their future at UNB can find information at unb.ca/international.
Media contact: Kathleen McLaughlin