UNB's 2021 High School Programming Competition won by Fredericton High student
Author: UNB Newsroom
Posted on Jun 24, 2021
Category: UNB Saint John
On May 15, high school students across the province competed in the annual New Brunswick High School Programming Competition organized by the faculty of computer science at the University of New Brunswick in Saint John.
The competition challenges students' computer-programming and problem-solving skills by having them solve eight programming questions that increase in difficulty. The student who solves the most problems wins the competition and receives bragging rights for their school, along with the Bill Davis Memorial trophy.
Fredericton High School Grade 9 student Victor Huang showed off his impressive programming talents as he finished the competition in first place, answering all the problems correctly and solving the most difficult question with one hour left to spare.
Huang used a type of programming language called Python. This popular type of language uses simple and straightforward syntax that allows people to program with minimum required knowledge.
"My father introduced me to programming by showing me questions from the Canadian Computing Competition," says Huang. "This competition was as excellent opportunity to further familiarize myself with competitive programming competitions and it feels like my efforts paid off."
The competition is usually held on the UNB Saint John campus and students compete in pairs of two. Due to COVID-19 restrictions, this year students participated individually at their own schools with supervision from a teacher.
In total, 40 students from 13 schools competed in the competition. Fredericton High School took first place, followed by Rothesay Netherwood School in second and Moncton High School in third.
"Through the NB High School Programming competition, we want to show young students that computer science can be fun and hopefully attract future students to the program," says Owen Kaser, associate professor of computer science at UNB Saint John and organizer of the competition.
The full list of the competitions results can be found on the NB High School Programming Competition scoreboard.
High school students and teachers in New Brunswick interested in participating in the 2022 competition can find the latest information and updates on the UNB NB High School Programming webpage.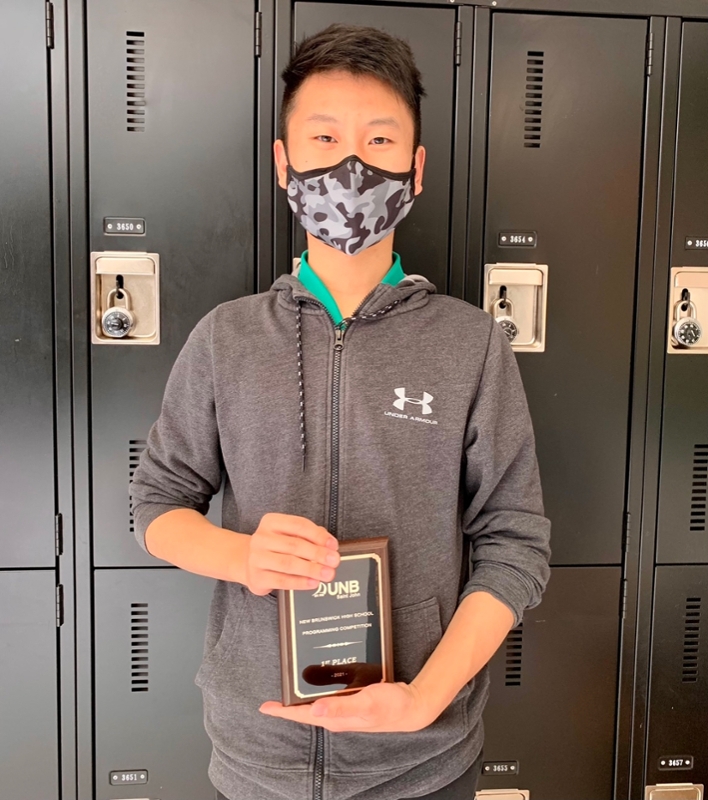 Media contact: Kathleen McLaughlin
Photo: Victor Huang, winner of the UNB New Brunswick High School Programming Competition.