UNB student receives top prize in national Indigenous storytelling competition
Author: UNB Newsroom
Posted on Jun 7, 2021
Category: myUNB , UNB Fredericton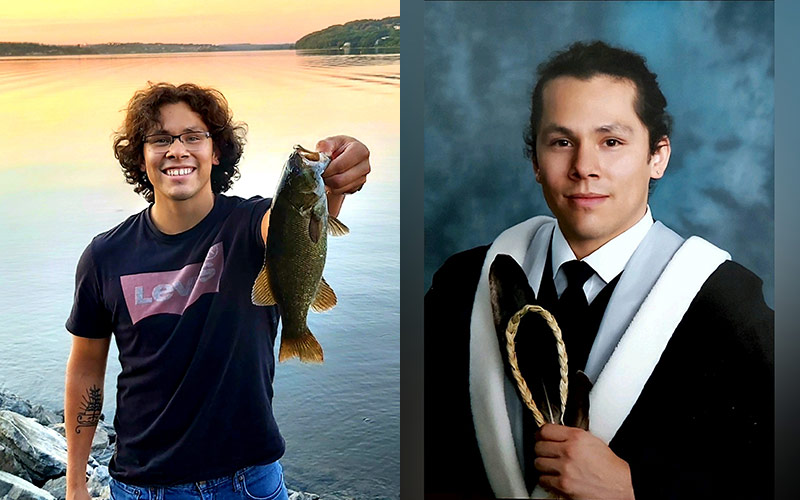 Spencer Isaac, a student in the bachelor of education program at UNB Fredericton, received the 2021 English-language Award for Excellence in Indigenous Studies, an initiative of the Blue Metropolis International Literary Festival and McConnell Foundation.
This year's competition required a video submission detailing their vision for a better world. Isaac's video found inspiration from several entities, including his passion for basketball and his grandmother's teachings.
"I was thinking about the prompts we were given. I called my grandmother to ask if there was a word in the Mi'kmaq language for a utopia or perfect world," he says. "She said you could translate it to mean nice world, or good world, but it depends on how you interpret it. It could be a nicely put together world, and that implies some kind of creation, or the world that we live in we've made nice, and that's how I understood it. There was a lot to think about after that phone call."
Parts of Isaac's phone call with his grandmother can be heard in the video, with her translating phrases.
Isaac, a member of the Listuguj First Nation, had also recently borrowed a graphic novel from a family member. This Place: 150 Years Retold explores the last 150 years through the eyes of Indigenous creators and authors, including residential schools and Indigenous veterans at war.
"It was so cool to see when we actually tell our stories, how beautiful they are. You see the family dynamic, and the utopia, and this perfect world that exists within each one."
One story, by Chelsea Vowel, envisioned a futuristic idea of Indigenous society if colonization hadn't occurred and stuck in Isaac's mind.
"If we could think about the next 150 years, what would we want that to look like?"
Isaac is currently in the practicum part of his degree and has been working at the kindergarten level, often reading Indigenous-made books to his class and teaching literacy skills. Since getting into the education program, he's realized how important storytelling is, and how everyone has their own story to share.
"I didn't realize that I've been doing some form of storytelling for a long time, just not necessarily with a purpose. But we're all storytellers in some respect."
His goal as an educator is to be in a position where other Indigenous students can envision themselves. He says there are so few Indigenous educators together in one place that it's important youth can see themselves as leaders and in educational positions.
This is the third year a UNB student has been recognized for their work. In 2019, the honour went to Matthew LeBlanc, followed by Peyton Juhnke in 2020. Their written essays earned them the English-language Award for Excellence in Indigenous Studies.
Isaac is thankful that his video received many views and shares. As winner of the award, he receives one of two $3,000 grants and an invitation to participate in the Blue Metropolis International Literary Festival, either online or live.
Above all, he's impressed by the work put in by his fellow award contenders.
"All the other submissions were fantastic, so it was great to be in their company. My outlook is very high for Indigenous storytelling."
Media contact: Kelsey Pye